Nor'easter expected to bring snow, wind and some coastal flooding – Boston News, Weather, Sports
A Nor'easter is scheduled to pass over the area late Monday evening and will remain there until early Wednesday morning. The strongest impact is expected on Tuesday with significant snowfall, high winds and some coastal flooding.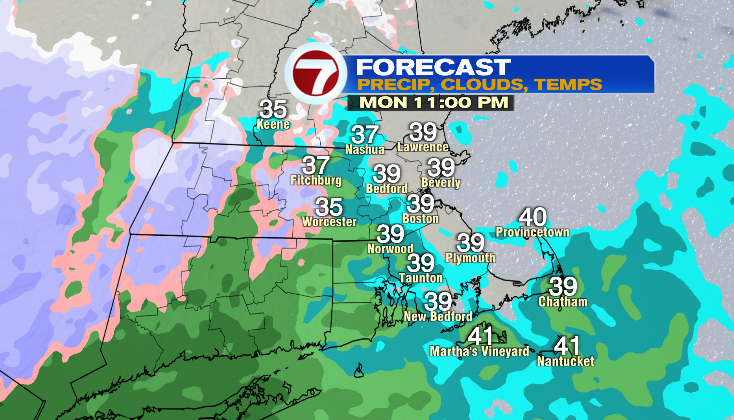 The storm begins Monday evening with light showers, typically after 10 p.m., and gradually increases in intensity into Tuesday morning. Snow is likely to arrive around midnight in locations in northern and central Worcester County, and early Tuesday morning in locations in Metro West and the North Shore.
By midday on Tuesday, the center of the Nor'easter will be just offshore, increasing wind speeds while turning rain to snow closer to the city of Boston.
The strongest gusts of wind are expected on Tuesday afternoon, with gusts of up to 100 km/h possible. The NE wind will also cause minor flooding, with isolated pockets of moderate flooding occurring on some NE-facing beaches.
Some snow will move across the south coast on Tuesday evening before the storms clear. A few isolated snow showers will continue into Wednesday morning, but the strongest impact of the storm will have passed.
A foot of snowfall is likely for the Worcester Hills and locations in southern New Hampshire, while only 1 to 3 inches of snow is expected for parts of the South Shore.
Due to the late changeover to snow in the Boston area, Tuesday morning commutes are looking better than evening as some snow is expected on roads in most areas.
Keep up with the latest from the 7 Weather team as the storm closes in!
https://whdh.com/weather-blog/noreaster-expected-to-bring-snow-wind-some-coastal-flooding/ Nor'easter expected to bring snow, wind and some coastal flooding – Boston News, Weather, Sports