Nor'easter brings strong winds, wet snow and coastal flooding as part of day-long, multifaceted storm – Boston News, Weather, Sports
Crews continue to prepare for ploughable snow and possible outages as a Nor'easter promises to dump lots of flake inland and hit the coast with strong winds before waning on Wednesday.
Steady wet snow is expected to arrive in western and central Massachusetts by 9 p.m., while the rest of the state will see mostly rain through Tuesday morning before a transition to snow later in the day.
RELATED: 7WEATHER BLOG: Evil Nor'easter
From the overnight hours through Tuesday evening, parts of northern Worcester County could reach snow totals of 12 to 18 inches, particularly in the area between Ashburnham and Princeton.
Worcester itself, as well as a number of communities along the 495, which extends into the Merrimack Valley, could see between 6 and 9 inches, with cities closer to New Hampshire potentially seeing up to 30 inches of snow.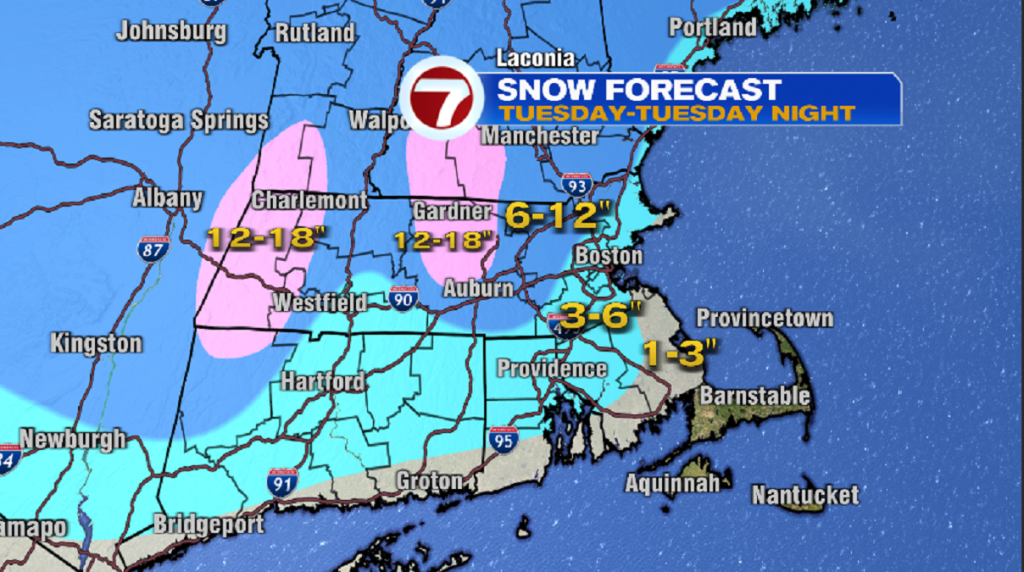 By Tuesday afternoon, many of the showers hitting Ostmass are expected to turn to snow after winds forced along the rain/snow line 495 to collapse in the south.
RELATED: Northeast brings strong winds, up to 18 inches of snow in parts of Mass.
From there, light to moderate snow is likely to fall through midnight and into the early hours Wednesday along most of the coast and Boston area.
Through Tuesday, 3-6 inches is likely for Boston and the North Shore, while areas closer to Cape see 1-3.
But while the brunt of the snow will lie inland, coasts are expected to get the worst winds, with gusts at the Cape reaching up to 50-60mph on Tuesday morning.
Similar speeds are expected to reach the North Shore and Boston by Tuesday afternoon, then again in both regions Wednesday morning.
A coastal flood watch will also be in effect Tuesday evening through Wednesday morning, with pockets of moderate coastal flooding and large waves expected.
Officials anticipate isolated power outages across the state due to wet, accumulating snow and high winds. For more information and the latest predictions, check out the 7WEATHER blog and more here.
https://whdh.com/news/noreaster-to-bring-heavy-winds-wet-snow-and-coastal-flooding-as-part-of-daylong-multifaceted-storm/ Nor'easter brings strong winds, wet snow and coastal flooding as part of day-long, multifaceted storm – Boston News, Weather, Sports