Nimbin will never be the same after Aquarius
The Minister for Urban and Regional Development, Mr Tom Uren, is considering a submission from festival organizers that the Commonwealth Government has set aside some 1,500 acres of land to allow the 'permanent' to build a new community.
All sorts of wild and wonderful plans have been hatched for the transient festival community, and most of them, perhaps surprisingly, are looking to be successful.
For example, the idea of ​​a cable television circuit where people film and show what they want seems to be taking off. The Australian Film and Television School donated $24,000 worth of equipment. A student radio station is already broadcasting and will provide opportunities for programming experiments at the beginning of the festival and will keep festival participants up to date on what is happening.
Aquarius bought the local RSL warehouse, painted a bright upside down Union Jack on the outside and converted the warehouse into a 'media factory' to house a darkroom, offset printing, typesetting, graphics, screen printing and video equipment. Two shops in town were bought by students, one to become a "soup kitchen" and the other to become "The Tomato Sauce Factory" — a grocery store and arts and crafts center. Both shops were painted in extravagant colors.
A group of entertainers calling themselves Magik Karavan have been touring the district giving concerts to earn enough money to keep them at the festival where they will perform for free.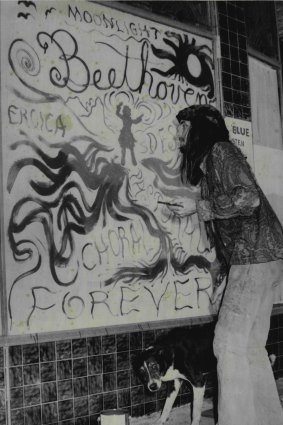 City residents were full of praise, describing the concerts as a refreshing contrast to some of the entertainment on offer elsewhere. Letters from people in the district have flooded the local newspaper, expressing their delight at what they are seeing and praising the young invaders.
A lot of work has been put in by the Shire Council to ensure things run smoothly, while the Aquarius organizers have provided water, showers, sewage, drainage, electricity and plenty of food and transport.
Funding for the festival comes from a $50,000 grant from the Aquarius Foundation, the usual $6,000 festival grant from the Peter Stuyvesant Trust Fund, and specific project grants from other entities. The organizers emphasize that the goal of the festival is not to make money, but simply to break even.
Several editions of a newspaper called The Nimbin Good Times were printed by the students to keep everyone in town informed of developments. One edition describes the festival atmosphere as "almost indecent".
The organizers remain full of hope that has brought them this far. "The concepts on which the festival is based are super optimistic," admits one organizer. But he adds: "May Day is hope and a chance to see if ideas that have already revolutionized our way of life can be used as the basis for a community. "
Loading
"When the different groups come together, they will realize that their goals and problems are not just personal, but common. It's a glimmer of hope in an ecologically desperate future that drives people to break new ground as they keep asking themselves the pressing question: How am I supposed to live?"