Nicholas Braun on life after the show
It's a fair question considering the series has captured the zeitgeist like no other, offering a glimpse into a world we know so little about but that impacts much of our lives.
"Over the past decade, there has been an increased awareness of organizations like Fox News and their agenda; We all wonder who makes the decisions, who controls the headlines we get on our phones," says Braun.
"Succession is a look behind the scenes and shows us that there are people with frightening power, but there are also people [like Greg] who don't know what they're doing, and I think that's a big part of the appeal."
It also doesn't hurt that although it's a drama successor maybe the funniest show on tv. Scathing insults and Instagrammable one-liners are the lifeblood of the series, with the Roy family unable to communicate unless they're putting each other down.
For the audience, part of the successor The viewing experience argues over who gets the best lines, and it's a testament to writing that there's no straight answer. Ask five people who the funniest character on the show is and you'll probably get five different names.
"It has to be Roman," explains Braun. "I mean, the stuff they give him, sometimes I just wonder how did you feel about that and how's Kieran doing [Culkin, who plays Roman] gonna pull it off? The authors really move to a different level with Roman's lines."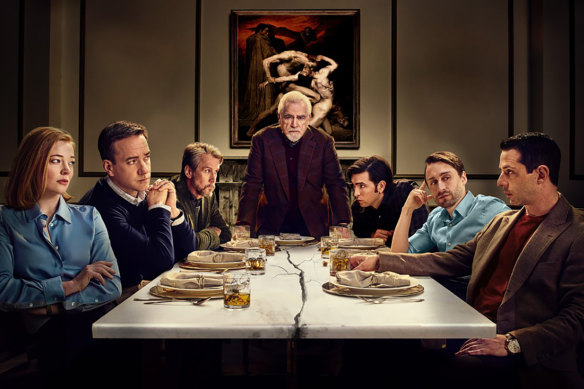 Many people could argue that Braun's character benefits from writing just as much. Alongside Matthew Macfadyen's Tom Wambsgans are the self-proclaimed "disgusting brothers". successor Comic Relief – a kind of Rosencrantz and Guildenstern.
Already this season, they've delivered some of the most quotable moments, from Tom asking Greg if he's "rummaged through to success" and Greg on the phone to Tom describing Logan's gang as "terrifyingly grumpy."
Braun said the couple had a "natural chemistry" that developed almost instantly.
"The first scene we ever filmed is where Tom asks if I want to kiss him, and that pretty much set the momentum," he says. "That kind of cloudy, hot and cold discomfort."
Nowhere is Greg's uneasiness more evident than in the season 2 finale, when he is called before the Senate to testify on sexual misconduct cases involving the cruise division of the Roy family business. The convention scene will go in successor Folklore largely thanks to Braun's delivery of Greg's iconic line: "If it needs to be said, so be it — so be it."
"A lot of it was unplanned," Braun recalls. "Basically [show creator] Jesse came to us the night before we shot it and said, 'We have this convention set, we can come back in a couple of weeks, or we could just wing it and do it tomorrow.'"
The actor spent the night studying Mark Zuckerberg's 2018 testimony before Congress — "I thought it was funny that the first thing he did was pour himself a glass of water," laughs Braun.
"We shot it a couple of times, and I found the trick was to have a lot of thoughts in my head and squeeze them together while trying to say the vaguest, most polite, most eloquent thing."
The result was a perfect Greg-ism; confusing, panicky, but ultimately hilarious.
If that moment is the culmination of cousin Greg's legacy, one gets the impression that Braun would be quite content. But right now, a whole new world awaits Braun – and that concludes Gregxit, Stage Left.
successor releases new episodes every Monday on Foxtel and Binge.
Find out the next TV, streaming series and movies to add to your must-sees. Get The Watchlist delivered to you every Thursday.
https://www.smh.com.au/culture/tv-and-radio/i-don-t-want-to-do-greg-again-nicholas-braun-on-life-after-succession-20230405-p5cybh.html?ref=rss&utm_medium=rss&utm_source=rss_culture Nicholas Braun on life after the show