New exhibit at Anzac Memorial features wet plate photography of Vietnam veterans
American-born McLain served with American Special Forces in Afghanistan. A former priest, he moved to Australia where he worked as a school chaplain at St Ignatius' College Riverview before earning a degree in photography.
He says Vietnam's "capital H history" is well covered. "I'm more interested in those personal little experiences and history, which I think are really important in understanding the experiences of veterans."
Marking the 50th anniversary of the final withdrawal of Australian troops from Saigon in 1973, McLain wants the exhibition to go beyond the stereotypes of the war. He photographs each veteran according to a long oral tradition. "Nobody tells the same story," he says.
A former soldier recalled the smell of French bread (a legacy of the French colonization of Vietnam) wafting through the jungle. Another could not forget about the humidity. A veteran was on guard listening to the rock band Iron Butterfly on the transistor radio when he heard horrific screams that he mistook for the enemy. It was a wild boar that then jumped at him.
Veteran Rod White came to his interview wearing the soft Digger hat he wore while on the job. He told McLain that spending a lot of time in the garden and reading every book and pamphlet about Vietnam helped him get his memories under control.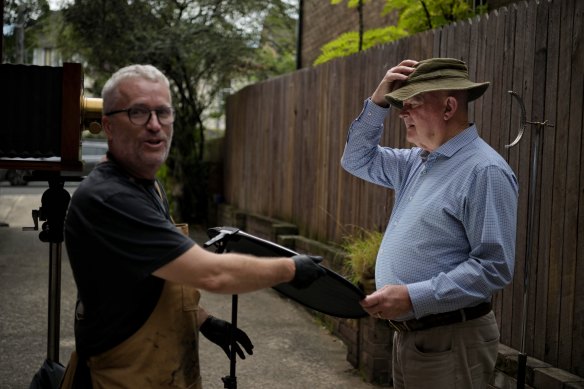 When he moved four years ago, White owned nearly 700 books. "I remember a doctor telling me that my way of dealing with life after active military service was to immerse myself in reading about the campaign, not to try to get things out of my head banish, but I must have done it." This inquiring will to understand."
In the years following his service, White became involved in the veterans' community and has twice traveled back to Vietnam. When I landed there on the first trip with a group of veterans, the smells were enough to bring back the trauma. "You could smell the bloody smell of 20 years ago, I'm talking about walking past a boiling village, or the smell of the air," he told McLain.
"When we got to the terminal, we were standing in the bloody line with our passports and one of our men found himself on the ground screaming and crying."
A little later another man collapsed. Towards the end of his business career, White "had a hiccup along the way."
"For whatever reason, things kind of started coming back, a little more than I could take at that particular time … Thankfully, with a supportive family and medical advisors, I got through it."
After interviewing White, McLain ushered him into his studio in the garage of a Randwick apartment unit.
Wet plate photography has a long exposure time. This meant White had to stand still for up to 15 seconds.
McLain says it appears to be a more honest process that captures the essence of each veteran.
Loading
Just like in real life, a small movement in the sitter can create a wrinkle – or what appears to be a scar – in an instant.
If you or someone you know needs assistance, call Lifeline on 131.114 or Beyond Blue on 1300.224.636.
The Morning Edition newsletter is our guide to the day's most important and interesting stories, analysis and insights. Login here.