New 7.5 km WestConnex tunnels will be opened under Inner West
Almost four years after tunneling began deep beneath Sydney's inner west, a 7.5 kilometer stretch of the vast WestConnex freeway will open to motorists.
Twin tunnels linking the M4 at Haberfield and the M8 at St Peters will open to the public at 3am this Friday, creating the longest continuous underground motorway in Australia.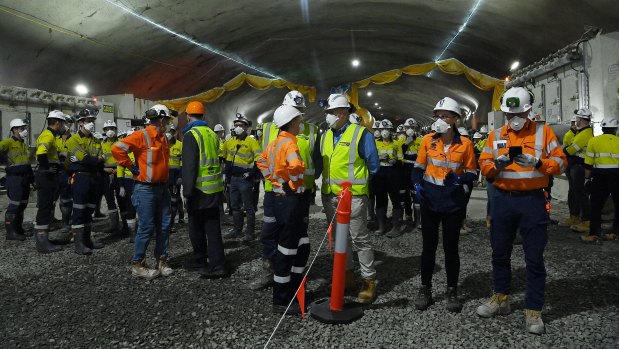 Premier Dominic Perrottet said the $3.2 billion project, one of the final stages of the $16 billion WestConnex freeway, is on budget and two months ahead of schedule.
The government estimates that the toll system will allow 100,000 motorists to avoid 52 traffic lights every day.
"This vital new link will save motorists up to 40 minutes on their journey between Western Sydney and Sydney Airport by bypassing 52 traffic lights by traveling through 22 kilometers of tunnels deep beneath the city," Perrottet said.
"We are completely transforming the way Sydneysiders live, work and commute in their city, with over a quarter million drivers already using WestConnex every day."
Loading
The opening of the M4-M8 link comes two and a half years after the opening to motorists of the M8, which links Kingsgrove and St Peters and burrows up to 90 meters beneath Sydney's southern suburbs.
The final component of the massive underground highway system will be completed when the Rozelle Interchange complex opens in late 2023. This tunnel section will be connected to the future Westhafen Tunnel, which the government expects to be completed in 2027.
https://www.smh.com.au/national/nsw/new-7-5km-westconnex-tunnels-set-to-open-under-inner-west-20230118-p5cdlq.html?ref=rss&utm_medium=rss&utm_source=rss_national New 7.5 km WestConnex tunnels will be opened under Inner West