Nation that welcomed me is no more
I came to Australia in 1967 from England as a naive 19-year-old, without much or any knowledge or experience of Indigenous affairs. One of my first experiences was of the referendum and the overwhelming support for an acknowledgment of the special needs of our Indigenous brothers and sisters. What a wonderful inclusive country, I thought.
Fast forward to 2023 and the country I came to has long since disappeared. Instead of a welcoming, inclusive country, we are now looked upon with negative regard by our Pacific neighbours and refugees searching for the promise of safety. The generosity of spirit shown by NZ, Canada, Finland and some other countries towards their indigenous peoples shows that it is possible to both recognise them and listen to their voices. You open your ears and your heart. Not in Australia, apparently. Robin Humphrey, Springwood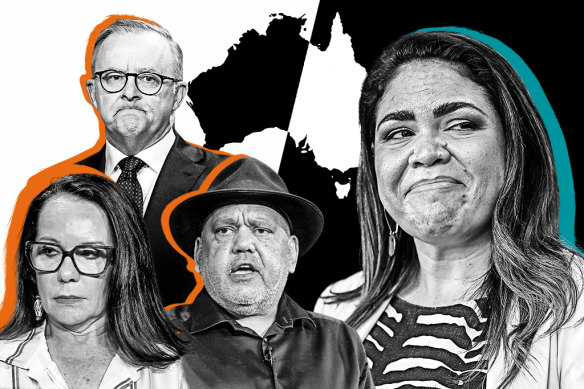 The result of the referendum and the welter of letters in the Herald indicate we were indeed divided on the Voice, though this does not mean we are divided on matters seen as more crucial. Many people, beset by cost of living and housing pressures, could have resented being dragged to the polls for what was seen as a lesser issue needlessly dominating media attention for too long. A dithering, complacent Anthony Albanese and his government might well be damaged by the outcome, as will a nation still seeking to deal with the festering sore of reconciliation. Ron Sinclair, Windradyne
"Albanese should not have to resign over this .. " (Editorial, October 16) but it would certainly help. He has shown monumental arrogance, incompetence and cynicism throughout the entire process. He thought it could be done on a groundswell of public goodwill and ignored history. It's not beyond the Machiavellian mind of a politician to be fearless of defeat because he mistakenly thought he could wash his hands of the problem and blame it all on Peter Dutton. Many Yes supporters are now taking the Donald Trump line that they were robbed by lies and deception. They were robbed all right but the thief was Albo himself. Bill Lloyd, Denistone
Why are people blaming Antony Albanese for the result of the referendum? Peter Dutton is the one who withdrew support when he sensed political advantage in weaponising the issue. My only consolation is that Boris Johnson and Nigel Farage were the architects of Brexit and where are they now? Perhaps Dutton and Nyunggai Warren Mundine could face a similar decline into obscurity. Sue Martin, Clareville
The main thing that is apparent from the result is that Australians do not like to think. Instead, they outsource decision-making to the other members of their political tribe. The minute David Littleproud announced his opposition, the 15 per cent of the population that votes National or One Nation gave a sigh of relief: don't need to think about that, vote No. And then Dutton came out against it and the 40 per cent Liberal cohort relaxed: don't need to think about that, it's a No. After that, the referendum was dead. The rest of the fuss was just window-dressing for a tribal vote. Alan Stanley, Upper Corindi
Only peace can help innocent victims of Middle East violence
Thank you to David Leser for an excellent, eloquent and enlightening opinion on the Israeli/Palestinian conflict ("Do you stand with Israel or Palestine? I'm Jewish, and I stand with both", October 14). I am also Jewish and I also stand with both Israel and Palestine. So many years lost to atrocities perpetrated on both sides, which will only beget more until men and women of good faith, intelligence and kindness acknowledge the other's rights, and shake hands. Thirty years ago, Yitzhak Rabin and Yasser Arafat shook hands. Both had been warriors, bitter enemies, and yet they came to understand that the only real victory would be an agreement to compromise for peace. My hope is that brave Israelis and Palestinians will meet once again to find a settlement that is safe and fair to all sides. Sarah Goldman, Rose Bay
No David Leser, Hamas is not a "murderous militant resistance force", it is a murderous rejectionist terror group. It doesn't "resist" Israel. It rejects Israel's right to exist, and the right of Jews to live there. Palestinian leaders have refused all offers of a negotiated two-state peace, and if Israel was to have unilaterally withdrawn from the West Bank, it would have got a murderous Hamas-controlled terror mini-state there, just as it did when it withdrew from Gaza. Except this time it would have been adjacent to the heart of Israel, not just its south. Athol Morris, Forde (ACT)
Loading
Heartfelt thanks to David Leser for his balanced and compassionate article on the current conflict in the Middle East. It is sad that both the Prime Minister and the NSW Premier have rushed to support Israel's right to self-defence while the injustice of Israel's 56-year occupation has never been properly acknowledged or condemned by our governments. With David, I stand with the innocents on both sides – the victims of the horrendous crimes in Israel and the millions of Palestinians who now have their electricity, food and water cut off in Gaza. Planes have been sent to rescue the ones stranded in Israel. We need to rescue the ones in Palestine as well. Anne Shay, Ballina
The events in Gaza and Australia are linked by one thing – a total neglect of the indigenous people who once owned and ruled their lands. Both were dealt huge blows by the British. In Gaza and the neighbouring territory, the Balfour Declaration spelt the emasculation of the predominantly Arab population in order to give Jewish people a homeland where they could be free from persecution. Earlier, the British had got rid of their unwanted people by sending them to Australia. Both conquerors treated the original inhabitants of their confiscated lands as non-people without rights, and certainly without a voice. That same racist attitude has continued until today, with tragic consequences for both the people of Gaza and the indigenous people of Australia. Curtis Levy, Birchgrove
We can all understand that the conflict in Israel and Gaza is horrendous for both sides. Everyone asks for peace in the region, but how is peace possible when the main protagonist (Iran) is more than 1500 kilometres away and has an agenda that includes the annihilation of Israel. Hamas represents Iran, not Gazans. I also understand what Gazans and Palestinians want. But is rape, the murder of babies and the elderly a reasonable mode of liberation? We all hope this is not the case. Alan Reich, Bellevue Hill
Mr Minns, you have lost my vote. I expected you to be neutral. You show no compassion for the innocent Palestinians in Gaza and have never said anything about the expanding occupation and brutalisation in the West Bank. By taking one side, you have lost not only my vote but also the votes of those in the west and inner west of Sydney. Lucinda Ho, Cammeray
Three patriarchal religions: Judaism, Christianity and Islam. All man-made springing from the same source. All claiming to be the one and only. All responsible for unspeakable slaughter of each other and/or in permutations with and against each other. Yet all claim to be tolerant and its advocates intelligent. Jon Jovanovic, Lenah Valley (Tas)
Free ride
I will bet all my Qantas points that all ex-Qantas directors can get on any Qantas flight they choose for free in first or business class, get their preferred seat and paying passengers get bumped ("After Qantas' year of serious turbulence, directors take off with plenty of perks", October 14). I would be surprised if those flights are ever cancelled or delayed. No doubt the ex-directors did not have to wait on hold for over six hours to speak to a poorly trained call centre operator overseas to make their booking. It is outrageous that these perks are available for years after the director's duties have ceased. Time to end this flagrant rort. Lindsay Somerville, Lindfield
Short measure
GDP growth persists, almost with religious fervour, as the nation's goal ("Why our standard of living will be rising more slowly for longer", October 14). But it is a highly flawed indicator of the state of the nation, and its per-capita variant is little better at measuring our standard of living. Gross Domestic Product is a measure of money flows, so it increases with expenditure on bushfires, epidemics, civil conflicts, road trauma, pollution, and other awful events, none of which raise living standards. It also takes no account of the state of our health, our schools, our relationships, our happiness, or the environment. As the late senator Robert Kennedy said, GDP "measures everything, in short, except that which makes life worthwhile". Ian Penrose, Kew (Vic.)
Badde memories
Thank you for publishing the warm tribute to Robert Sebes and Badde Manors (" 'A special, magical place': Inside the Sydney institution that changed the city forever", October 15). Reading this article brought back memories. In 1978, I was living above Andy Paton's newly opened Toucan Cafe, which served espresso coffee, cakes and hot bowls of pumpkin soup. Local musicians frequently entertained customers, including screen composer Bruce Rowland improvising on piano. For more intense musical fare we could cross the road to Morgan's Feedwell to take in the cream of Sydney's contemporary jazz scene: the Bernie McGann trio, Roger Frampton, Phil Treloar and others. Further up the road, Russell's bulk health foods store supplied the organic ingredients of our increasingly vegetarian diets, and students could also dine economically at one of Sydney's early Vietnamese restaurants; further up the road, we could wander along to the Pudding Shop after an arthouse movie at the Valhalla cinema. Nick Horn, Narrabunda (ACT)
Not worth saving
The best hope for retailers this Christmas is that younger consumers will spend for two reasons ("Younger shoppers feel inflation bite hardest", October 16). If they conclude there is no hope of owning a home in the near to medium future, and furthermore, the idea of starting a family is just far too expensive, they may as well enjoy life and spend whatever discretionary funds they have available. Geoff Harding, Chatswood
Voice silenced
What very few people have mentioned is that this referendum was lost because it was simply badly worded and thus confusing. I feel sure the vote would have been a resounding Yes if the question was simple. The result was similar for the referendum on the republic – in that case, the politicians got the model wrong. Perry McIntyre, Mosman
Perhaps we should have preferential voting for referendums. On Saturday, I had a choice about one model, Yes or No. But there were four models that could have been on the table: (a) no change, (b) recognition, (c) recognition and a Voice to parliament (not executive) and (d) recognition and a Voice to parliament and executive. From the sounds of the public discussion leading up to the vote, the other two options would have had quite a lot of public support, and one of them might have succeeded after distribution of preferences. Ben Morphett, East Ryde
The result of the referendum reminds me of the Bodyline Ashes series between England and Australia and the resulting famous line: "There were two teams on the field today, only one was playing cricket". If a group is so sure they are right, do they need to resort to distortions and misinformation? I fear we are headed for a Trumpian-Republican style campaign in our next election. Allan White, Kingsford
What really needs to be done now that the Voice has been put to the sword, is to restrict who can make representations to government. The referendum discussions have identified that there are already too many lobbyists pushing barrows around Parliament House. The sooner it is restricted to the mining, fossil fuel and airline industries the better. Joe Weller, Mittagong
According to Shane Wright, the results of the referendum show that in those areas with a large proportion of Indigenous people, Yes did better than No, which means that Jacinta Nampijinpa Price helped to convince sufficient white people to vote against the wishes of the majority of our Indigenous population. As some have suggested, perhaps such a talent is perfect for a future leader of the Nationals. Peter Nash, Fairlight
The landscape of Australian politics has changed. Old ground rules of parties with platforms have slewed. No principle of fairness. So the first priority for political leadership is to build levees against the multipronged attack of lying by big media, pandering to left or right-wing extremists, and the power of the almighty dollar. In the system we have, Labor and progressive independents are absolutely pivotal in holding back the flood. If the levee breaks, ain't no place for (decent) people to go (including decent conservatives). Paul Huxtable, Forestville
I worked for a manufacturer once who, when their product did not sell, never blamed the customer, but blamed themselves. The Yes campaigners should take a leaf. Paul Stephen, Yamba
Good on my fellow Novocastrians: a majority of you stood firm with our First Nations peoples and voted Yes. You ignored the onslaught of divisive nonsense and drivel that ran out of the mouths of so many and saw the decency of the proposal. The No campaign was backed by some very wealthy and well-known white people, and the richest woman in Australia, Gina Rinehart, partied on at the No campaign headquarters on Saturday night. Here are the real elites. Wendy Atkins, Cooks Hill
There were two positives to come out of Saturday's vote. First, the polls were accurate. The second is that there will never be another referendum for anything (including Australia becoming a republic). Richard Thatcher, Bathurst
Deborah Mailman must be the pick to play senator Jacinta Nampijinpa Price in the miniseries that will inevitably be made. Philip Cooney, Wentworth Falls
We are definitely not in the mood for recriminations. Instead, can we see some positive action? What is totally predictable is that mental health, already a worrying issue, will nosedive in Aboriginal communities. The federal government can provide a significant funding boost/resources to agencies that work in that space, especially in schools. Various other Indigenous programs in trial and in the pipeline can be prioritised, approved, and fast tracked. Everything should be on the table. Margaret Johnston, Paddington
Early bloomers
It's October and the Jacarandas are in bloom. Didn't it used to be November? Peter Neufeld, Mosman
Reversal of fortune
Isn't it ironic that former Wallabies coach Michael Cheika engineered a 29-17 quarter-final World Cup victory over Wales by his Argentinian team, and that the Australian side he previously coached were humiliated time and again at the 2023 Rugby World Cup? Eric Palm, Gympie
Nowhere to hide
According to Monday's Letters, more than half of the Herald's readers are "…ashamed to be Australian". Now that New Zealand has voted conservative, where could they escape to? Garrett Naumann, Cammeray
Over the coming week teachers across Australia will have to explain to our young students why the majority of Australian adults voted "No" to the referendum, especially when the NSW curriculum aims to "enable students to become active and informed advocates for a just and inclusive world". Elizabeth Starr, Abbotsford
May I suggest that David Marr's most recent book "Killing for Country" be made part of the compulsory reading for future HSC English candidates? Truth telling is more important than the lies I was taught as a student in the early '50s. Ferdo Mathews, Robina (Qld)
To submit a letter to the Sydney Morning Herald, email letters@smh.com.au. Click here for tips on how to submit letters.
Catch up on the best letters and online comments on the topic of the week in our Friday wrap Yours. Sincerely
The Opinion newsletter is a weekly wrap of views that will challenge, champion and inform. Sign up here.