Myer Music Bowl Melbourne, with OG Wiggles and Lil Nas X
Emily, 23, and Otilija, 22, both from Canberra, came here to see two acts in particular: "The OG Wiggles and Lil Nas X. He's so sick," Otilija said.
Jade, 31, from Hadfield is a preschool teacher. "I listen to The Wiggles every day, they better play Tame Impala elephant Cover, that's what we're here for. We like that better than a camping festival, it's much more chilled out".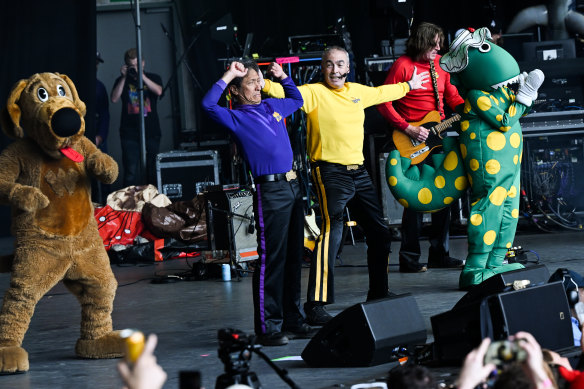 Her partner Brock, 34, of Glenroy agrees. "The selling point for us was the Sidney Myer Music Bowl, it was a last minute decision."
Both The OG Wiggles and Lil Nas X host festival set masterclasses. The OG Wiggles played wake up jeff, hot potato and their covers of The Chats pub feed and the elephant mass sing-alongs caused in the room. They even interpolated some Lil Nas X hits old town street (certainly a no, no?) and went inside Big red car.
Word later broke that the Grammy-winning American rapper was supposed to take the stage in that scarlet car, but it fell through. Ethiopian-born Tsehay Hawkins (who replaced Emma Watkins as the new Yellow Wiggle) more than made up for his absence with spirited dance moves.
Lil Nas X devoured his headline set, shoving his impressive torso around with a troupe of choreographed dancers. He sang his hits Montero and industry baby Under pink and purple lights, the stage transforms from palatial stairways to ridiculous balconies.
Earlier, Sydney rap group 1300 played to a skinny but eager crowd. "We're doing Naarm-Core today," said one member. They asked fans to open a mosh pit, but it didn't happen, which had more to do with the low numbers than the signs that read "NO CROWD SURFING, NO MOSHING." Genesis Owusu, Dameeeela, MAY-A, Luude and DMAs all nailed their slots with flying colours, while DJ Anna Lunoe was overly confident with her bass-heavy cuts.
The second day started in bright sunshine but with sparse numbers. Trace it back to the tyranny of distance from house to bowl versus tent to stage. "Tag for that," noted Scooter, 33, of Abbotsford.
Emerging First Nations artist and Kaytetye woman RONA. dropped a low-key, high-impact DJ set, including their Shazam-friendly banger feel it too. Melbourne band Floodlights presented their Paul Kelly meets Eddy Current Suppression Ring Rock'n'Roll. Tonight, Britain's always cool Arctic Monkeys will be counting at the Falls Festival in the New Year for perhaps their first and only time at the Bowl.
A cultural guide to going out and making love in the city. Sign up for our Culture Fix newsletter here.
https://www.smh.com.au/culture/music/toot-toot-chugga-chugga-lil-nas-x-headliners-a-hit-at-all-new-falls-festival-20221229-p5c9b8.html?ref=rss&utm_medium=rss&utm_source=rss_culture Myer Music Bowl Melbourne, with OG Wiggles and Lil Nas X