Murray has come back from the dead and scares Berrettini
Loading
Injury and illness largely made the rest of his year grueling – not before a win over Murray at the US Open – but No. 14 and seeded here at No. 13, he was a formidable first-round opponent for Murray, whom he had beaten in the last three encounters. More specifically, in the tennis scheme, Murray was a tricky first opponent for Berrettini.
By the time they stepped onto the pitch at Rod Laver Arena, play on the outdoor courts had been suspended due to the heat, meaning all eyes that weren't tearing in the 36-degree sweltering heat turned to Murray again. It must have felt like the good old days for Murray. It became a very good old-time style.
For Berrettini it was neither the day he had hoped for nor the day he expected once the roof was closed. "It was cold," he said. Of course, that meant the ball bounced and flew differently. But Berrettini said it's a tennis player's obligation to adapt. "I have to say Andy handled the situation better," he said. "He loves playing these types of games. He's a great champion, as I've said many times before."
Murray broke Berrettini on the first opportunity in each of the first two sets and that was enough to win both. Murray's winning tactic then was to consistently serve wide to Berrettini, one of the few players to play a one-handed backhand.
There was no trace of Murray's former funeral behavior. Maybe he had been born again. "Funereal" wasn't really going to work after the metaphorical funeral anyway.
Early in the third set, Murray had two separate breaks but couldn't complete them. From there, Berrettini held his serve, leveling the battle on the court and on the scoreboard when the time came. Murray wouldn't break Berrettini's serve again.
It wasn't that Murray's game dried up, but Berrettini raised his. A break of serve was enough to win him the third set, but there was no break in the fourth; each had all the answers to the other. Berrettini's three aces in the tiebreaker outweighed some notable Murray scramblings.
As is so often the case, desperation gave birth to inspiration in the fifth movement. Murray repeated all the tricks he had as a player who kept Roger Federer, Rafael Nadal and Novak Djokovic honest all these years. But what he could conjure up in groundstrokes, Berrettini countered with his serve.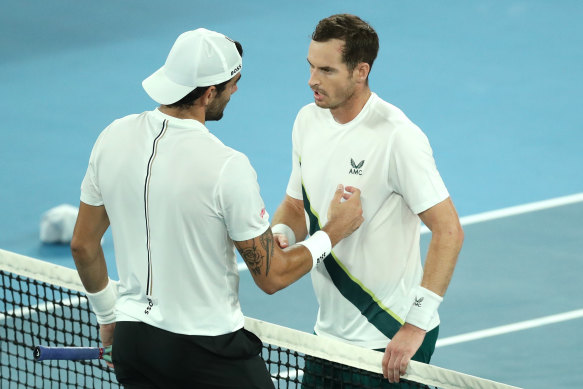 "Some of the tennis at the end was really good," Murray said with Caledonian understatement. "That's what it felt like as a player. I don't know what it looked like!"
It looked stunning, but it also looked like Berrettini's age and power advantage would carry the day. Besides, he has his own pride and enough finesse too. In the 10th game he had a match point but gambled it away and smashed into the net with a backhand.
In the tie-breaker, Murray reached deep into his heart and history to take a 5-0 lead. It was a handicap that Berrettini couldn't make up for.
"Last year I won 7-6 in the fifth. This year I lost 7-6 in the fifth," he said. "This is tennis."
For daily updates on all tennis action throughout the Australian Open, Sign up for our sports newsletter here.
Follow the entire summer of tennis, including the United Cup and Australian Open, live on Channel Nine, 9Gem and 9Now.
https://www.smh.com.au/sport/tennis/back-from-the-dead-murray-spooks-berrettini-20230117-p5cd5x.html?ref=rss&utm_medium=rss&utm_source=rss_sport Murray has come back from the dead and scares Berrettini