Monterey Park shooting suspects found dead in van
Authorities believe the two events are linked. They gave no information on a possible motive.
The suspect entered the Alhambra club with a gun and people snatched the gun from him before he fled, Luna said.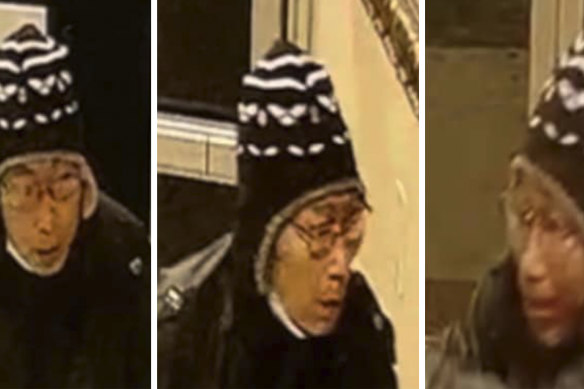 Hours earlier, Luna said authorities were looking for a white van after witnesses said they saw the suspect flee the Alhambra in one such vehicle.
"We believe there is a person in this vehicle. We do not know their condition, but we will deal with it as safely as possible and try to identify this person. Could it be our suspect? Possibly," said Luna.
In response to a question, Luna said it was possible that the person barricaded in the van was dead.
Members of a SWAT team entered the van a short time later and searched its contents before exiting. What they found was unclear.
Authorities said Sunday they know the suspect's name but declined to release it because it could hamper their ability to apprehend him. But they released a photo showing an Asian man wearing glasses and a winter hat.
The sheriff refused to say what kind of gun was seized at the Alhambra. He said investigators believe the gun used at Monterey Park was not an assault rifle.
The massacre was the nation's fifth mass killing this month. It was also the deadliest attack since May 24, when 21 people were killed at an elementary school in Uvalde, Texas.
Monterey Park is a city of about 60,000 people on the eastern edge of Los Angeles and is made up primarily of Asian immigrants from China or first-generation Asian Americans. The shooting took place in the heart of downtown, where red lanterns adorned the streets for the Lunar New Year celebrations. A police car was parked near a large banner that read "Happy Year of the Rabbit!"
The celebration at Monterey Park is one of the largest in California. Two festival days were planned, which have been attended by up to 100,000 people in recent years. But officials canceled Sunday's events after the shooting.
Tony Lai, 35, of Monterey Park, was stunned when he came out for his early morning walk and was told the sounds he heard during the night were gunshots.
"I thought it might be fireworks. I thought it might have something to do with the lunar new year," he said. "And we don't even get a lot of fireworks here. It's strange to see that. It's really safe here. We're in the middle of the city but it's really safe."
Wynn Liaw, 57, who lives about two blocks from Monterey Park Studio, said she was shocked that such a crime would happen, especially during the New Year celebrations.
"The Chinese consider the Chinese New Year to be very, very special" — a time when "you don't do anything unlucky all year round," she said.
She snapped a photo of the activities outside the studio to send to relatives and friends in China "to let them know how crazy the US is going with all these mass shootings, even in the new year."
An Associated Press/USA Today database of mass killings in the US shows that 2022 was one of the country's worst years, with 42 such attacks — the second-highest number since the tracker was created in 2006. The database defines a mass killing as four people killed , not including the perpetrator.
The latest violence came two months after five people were killed at a Colorado Springs nightclub.
President Joe Biden and Attorney General Merrick Garland have been briefed on the situation, aid workers said.
The shooting took place at the Star Ballroom Dance Studio, a few blocks from City Hall on Monterey Park's main thoroughfare, Garvey Avenue, which is dotted with small business malls with signs in both English and Chinese. Cantonese and Mandarin are both widely spoken, Chinese holidays are celebrated and Chinese films are regularly screened in the city.
The company offered dance courses from tango to rumba to foxtrot and rented out its premises for events. On Saturday, according to the website, it held an event called "Star Night" from 8 p.m. to 11:30 p.m.
Crisis support is available from Lifeline on 13 11 14 and Beyond Blue on 1300 22 4636.
https://www.smh.com.au/world/north-america/man-found-dead-in-van-after-deadly-lunar-new-year-shooting-20230123-p5ceqy.html?ref=rss&utm_medium=rss&utm_source=rss_world Monterey Park shooting suspects found dead in van