Mistress Lucilla believes sex work will save the town
Mistress Lucilla has more to offer than her tight corset, her high-heeled boots and her riding crop. Add to that her master's degree in psychology, the book she's writing, and her complex understanding of society.
When I ask her about the large neon crucifix on her wall, she replies, "It's a place of worship, isn't it?" And she's right. Some people adore her for the things she can do.
Although sex work has been decriminalized in NSW since 1995, the sex industry still operates largely behind closed doors and is spoken about in hushed tones. That is, of course, unless you talk to the people who work in it.
"People often ask, 'Why are you doing this? are you forced to do this Or 'how can I save you?'" Mistress Lucilla said.
"I don't have to save. I'm really here to save you. I'm not doing this for the money. It's about how many positive life experiences I can offer someone."
More and more people have started to dip their toes in the waters of bondage, says Mistress Lucilla, taking the post-lockdown opportunity to try something new or explore sexual fantasies.
"I'm seeing a wave of what I call 'bucket listers.' People who try it once, want to see what it's like, and most likely never want to do it again."
The pandemic has had a variety of effects on how the sex industry works and with rising inflation and interest rates, Mistress Lucilla said sex is one of the first industries to feel the effects of the crisis.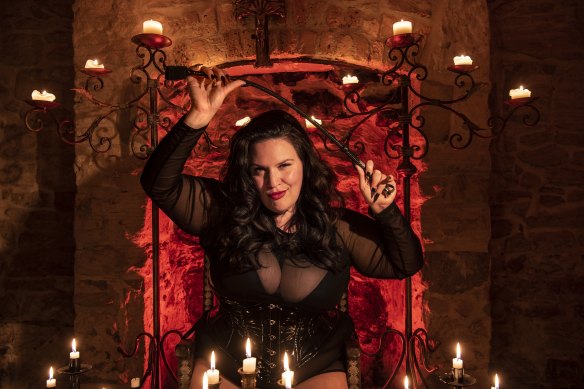 "People are getting nervous about what they're spending their money on, how they're spending their money, and moving inward in hopes of surviving."
Like any other business, demand has its ups and downs.
Despite the popularity of her bridles and gags around the time of the Melbourne Cup, Mistress Lucilla said the racing carnival marks the start of people taking their money elsewhere.
"From the day of the Melbourne Cup it's going to be really quiet as everyone moves into the party season."
"And then the Christmas parties start and everyone gets ready for the holidays … so the customer money goes towards Christmas gifts and holidays and then the kids go back to school and people have to pay their credit card bills. So usually from November to the end of February it gets very patchy."
Jess and Lawrence, owners of swingers club Our Secret Spot in Annandale, had a similar experience to Mistress Lucilla as the pandemic triggered an onslaught of people looking to spice up their sex lives.
"Our numbers have grown week by week to the point where we sell out almost every weekend. Since the end of the last lockdown, there hasn't been a weekend that we haven't sold out," Lawrence said.
Loading
The two decided to speak openly about their business after their first few years in the industry to help break down the stigma surrounding sex.
"We want to normalize the fact that sexual activity doesn't make you dirty or mean or that there's something wrong with you because you want to have sex with other people," Jess said.
Some parts of the industry have been inspired by books and films such as 50 shades of graybut brothels are still judged.
This is largely due to human trafficking syndicates, which are still rampant in parts of Australia. An investigation of this legal notice revealed cases of visa farms dealing with the mass destruction of visas and brothels where women were stripped of their passports and ordered to perform extreme and degrading services.
dr PG Macioti, a research fellow at La Trobe University, said some states and territories in Australia still criminalize some sex work, allowing illegal syndicates to thrive because women often fail to report abuse for fear of legal retribution.
"As long as there are narrow borders, wealth disparities and inequalities within and between countries, there will be fertile ground for the exploitation of migrant workers, even in a decriminalized sex industry," Macioti said.
Australia "shows comparatively much lower rates of human trafficking in the sex industry," Macioti said, compared to other Western countries, and that human trafficking has declined over the past 10 years. To eradicate exploitation, Macioti said more dialogue needed to be had with sex workers so they knew their rights and more work needed to work towards Australia-wide decriminalisation.
"Make the sex industry a regulated workplace like other workplaces, increase labor rights for migrants, visibility and health and safety at work, and health and rights information sharing," Macioti said.
"Only rights will stop injustice."
Julie Bates, who was appointed Officer of the Order of Australia (AO) for her "meritorious service to community health" and has worked with brothel owners for decades, said one of the most pressing issues facing sex workers is that the local government is pushing brothels forward in industrial areas and create environments where women often feel uncomfortable.
"It's a de facto ban," Bates said.
She says brothels don't belong "out in the provinces around junk repair shops" because it's "an extremely inappropriate and dangerous place for a predominantly female workforce. As soon as the sun goes down, everyone goes home… There are no trains, no transport, and customers are scared too."
As the industry continues to shed stigma surrounding sex work and sex workers, it allows services to become more accessible to people who previously had difficulty entering premises and finding sex workers.
Rachel Wotton, an academic, sex worker and activist, has worked for more than 20 years to advance the rights of sex workers as well as the sexual rights of people with disabilities to access sex work services when they choose.
Her PhD is researching the experiences of people with disabilities using sex work services in Australia.
She says that "the sexual rights of people with disabilities are still an incredibly contentious issue," and that these issues are often related to poor accessibility of venues, society that still doesn't see people with disabilities as sexual people, and unclear Policies in disability organizations in the area go hand in hand with support for people's sexual and relationship needs.
"Third-party support and support staff can either be the best advocates or the worst gatekeepers," Wotton said.
Although great strides have been made in reducing stigma surrounding sex work and those who access it, Wotton said there is still a long way to go.
Loading
"One of the things that needs to change is … more positive media that portrays sex work as real work and for people to stop demonizing clients."
And also: "Allow sex workers from other countries to obtain work visas equivalent to those of other professions and industries".
Put simply, allow them to work, pay their bills, and provide for their families just as you would any other occupation. Because at the end of the day they are just doing their job.
The morninging Edition Newsletter is our guide to the most important and interesting stories, analysis and insights of the day. Sign up here.
https://www.smh.com.au/national/nsw/mistress-lucilla-doesn-t-need-saving-she-thinks-sex-workers-are-saving-sydney-20220921-p5bjv4.html?ref=rss&utm_medium=rss&utm_source=rss_national_nsw Mistress Lucilla believes sex work will save the town