Misdeeds are catching up with Australia's corrupt casinos
And regulators are clearly keen to make an example of The Star when it comes to holding casino sector executives accountable for their misdeeds, with ASIC noting that there are strong arguments against The Star's former board and executives .
The Star's new management, headed by former Tyro Payments boss Robbie Cooke, now finds itself tasked with not only undertaking the clean-up work required by regulators, but is also staring at the barrel of a proposed new tax that Sydney's two casinos are eyeing will pay you hundreds of millions of dollars extra to run table games and poker machines.
Star's share price, which has fallen nearly 40 percent over the past year, has plummeted another about 15 percent on the tax debate, to close 2022 at $1.77. The stock started the year at $3.68 per share.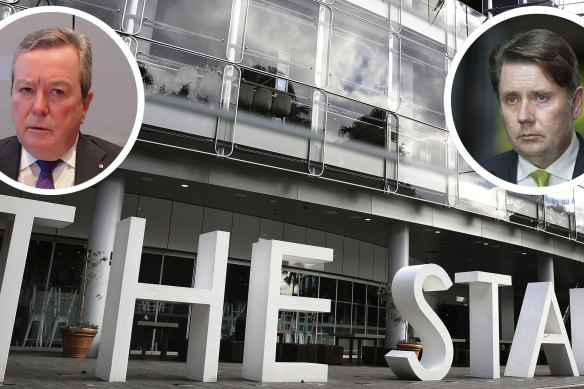 Helen Bird, a corporate governance expert at Swinburne University, says the Star has always been an easier target compared to Crown because the allegations are more recent. But more importantly, the very public allegations against Crown through that imprint — and Crown's double-page ads denying those allegations — meant that a "head-in-the-sand" approach to the Star board was unfeasible was.
"This is definitely within the statute of limitations where the board would probably have wondered if the same things were happening in their own organization if they had acted well," she said of the Star's board after the Crown's allegations.
"The reason there's valid criticism of Star, beyond what's happening at Crown, is that not only did it happen, but they were shown the consequences of not investigating in real time," Bird said.
An assessment that ASIC agrees with.
Corporate regulators first showed their intent when AUSTRAC filed legal action against The Star in December over alleged money laundering offences.
"As we have confirmed on several occasions, ASIC has had an active investigation into the behavior of the Star Group underway since March this year. The outcome of that investigation is imminent and an announcement will be made in due course," ASIC Deputy Chair Sarah Court said at the time.
But AUSTRAC and ASIC aren't the only ones targeting the very people who have allegedly mocked the regulations aimed at keeping criminals, money laundering activities and problem gamblers out of our casinos.
The newly formed NSW casinos regulator, the NSW Independent Casino Commission (NICC), has made it clear that it would not allow executives and board members linked to the Crown and Star fiascos to operate in NSW.
"Former directors and executives of The Star who retain close staff authorization will have that authorization revoked very soon," a NICC spokeswoman told the publication.
"While the NICC does not have the power to take disciplinary action against them, it goes without saying that these individuals are unlikely to ever again receive approval from a close associate to work at a NSW casino. Likewise, this would extend to executives and directors of Crown Melbourne and Crown Perth before Bergin," it said.
The NICC is going a step further by considering whether to report some of The Star's executives to their bodies for breaches of the code of conduct ahead of the Bell investigation. These include the governing bodies of the accounting and legal professions.
Loading
According to Bird, this is an important issue. In addition to the impact of this bad behavior on the two companies, how will the people who allowed it to be held accountable and prevented from engaging in this bad behavior again?
Bird said there is a perception that holding individual executives accountable is a lost battle for corporate accountability.
"In terms of signaling bad behavior that acts as a deterrent to others who may be considering similar activity, it really gets lost in the laundry," says Bird.
"When we talk about company officers and the company's board of directors taking responsibility, essentially their responsibility is to walk the plank," she says.
The problem is what keeps these leaders from showing up elsewhere and causing the same problems.
She sees this accountability as part of the larger problem of balancing risk-taking with the need for accountability.
"There's always this big complaint that the law is way too harsh, asking too much of directors and encouraging them to just focus on regulatory compliance and not on entrepreneurial encouragement of risk-taking," she says.
"The reality is very different."
https://www.smh.com.au/business/companies/walk-the-plank-misdeeds-catch-up-with-australia-s-blighted-casinos-20221206-p5c436.html?ref=rss&utm_medium=rss&utm_source=rss_business Misdeeds are catching up with Australia's corrupt casinos