Miracles, imperfections, contradictions, Japan in 2023
What in the World, a free weekly newsletter from our foreign correspondents, is sent out every Thursday. Below is an excerpt. Sign up to get the entire newsletter in your inbox.
I'm writing from the Nozoni 700 Shinkansen, one of Japan's super-fast trains, rushing between Osaka and Tokyo. In two hours we cover 500 kilometers, driving through the mountains surrounding Mount Fuji and the suburbs of Yokahama. There are wisps of snow on the mountains to my right, beneath which small green paddy fields stretch down into the valley at sunset.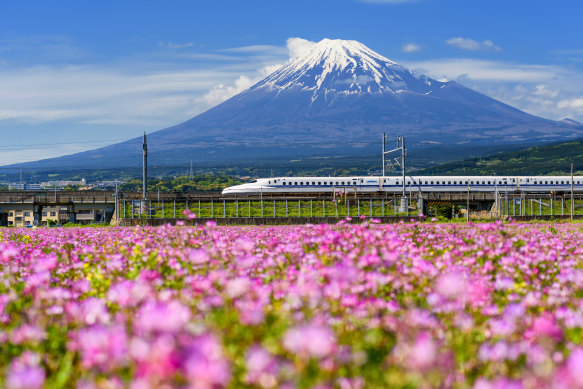 I have my bento box: gyudon beef with takoyaki on the side, squid balls, which are Osaka's specialties. My colleagues across the aisle have karaage chicken and a smattering of those delicious katsu sandwiches that combine a slice of succulent pork between two slices of white bread (crusts trimmed) to create something spectacular out of the usually very ordinary. Even the delicious tuna onigiri and strawberry cream sandwiches from the kombini (convenience store) deserve a mention.
This is travel. It's quick, convenient and delicious. I don't know why train travel offers a dose of satisfaction that planes and buses don't, but train travel in Japan in particular is really good.
The same is not true of his approach to gender equality, migrants, parental alienation, technological adaptation, or the insidious connections between religious sects and politics. The BBC's Tokyo correspondent Rupert Wingfield-Hayes wrote his farewell to Japan this week after 10 years, and while it offended some and struck a chord with others, it ringed broadly true to me. His headline: "Japan was the future, but it's stuck in the past".
I've never lived in Japan for any length of time, but I studied here briefly and have visited the country 10 times, including three trips in the past year. I've been learning the language for a decade and along with Australia and my family's home country of Poland, it's the country I'm most familiar with.
But the more I get to know the place, the more I grapple with some of its contradictions. It faces a demographic crisis but refuses to consider immigration. Its electronics were world leaders, but fax machines and postage stamps still dominate public life. She set a goal of electing 30 percent female executives by 2020, then delayed that by a decade. Only two of the 19 ministers are women. Reform is slow, delicate and unwieldy for a country that has had almost the same government for almost 50 years.
All countries are like that – full of imperfections and contradictions. Japan features so prominently in the public imagination because it has long been heralded as the beginning of the future. Perhaps it's a victim of its own PR success in the 1990s and early 2000s. Its public face is clean, efficient and progressive. Internally it is bureaucratic and conservative. It now faces a declining birth rate and a sluggish economy, and has fallen years behind the technological innovation of Korea, China and Taiwan.
https://www.smh.com.au/world/asia/a-note-from-tokyo-marvels-imperfections-contradictions-japan-in-2023-20230126-p5cfn8.html?ref=rss&utm_medium=rss&utm_source=rss_world Miracles, imperfections, contradictions, Japan in 2023