Milton Orkopoulos found guilty of sexual assault
Former Labor MP Milton Orkopoulos was found guilty of the sexual abuse of four boys between 1993 and 2003, his second child sex abuse conviction.
Orkopoulos, 65, was tried in NSW District Court in Sydney after pleading not guilty to 28 charges against the boys, including aggravated indecent assault, having sexual intercourse with a person between the ages of 10 and 16 and supplying a prohibited one Drug.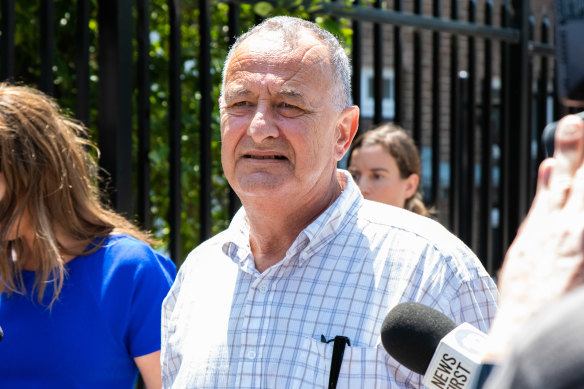 Prosecutors argued that Orkopoulos had a sexual interest in boys, which he "constantly" pursued in an opportunistic way, abusing the boys between the ages of 10 and 14 and doling them with cannabis and money.
Orkopoulos abused the boys in public and private places, including in his car and at his polling station in Swansea, causing some excruciating pain. He watched one of the boys in the shower as he touched the boy's genitals and masturbated in front of him.
On Wednesday, a jury found Orkopoulos guilty on 26 counts related to sexual abuse and supply of cannabis after deliberating since 12.13pm Tuesday.
He was acquitted of two charges: supplying a cannabis joint to the boy he observed in the shower and alleging that he reversed the course of justice by trying to get the same boy to retract his abuse allegations.
Orkopoulos was previously convicted in 2008 of sexually abusing three other boys and supplying drugs between 1995 and 2006. He was sentenced to a maximum of 13 years and eight months in prison.
The jury was read some evidence from the previous trial as part of the Crown's argument that Orkopoulos tended to respond to a sexual interest in boys, but the jury was not informed that he had previously been convicted.
They were told he had pleaded guilty to possessing a written child abuse history found hidden under his mattress in 2006 and supplying cannabis to a high school student who visited him at State House in 2005.
https://www.smh.com.au/national/nsw/milton-orkopoulos-found-guilty-of-sexually-abusing-four-boys-20230404-p5cxyf.html?ref=rss&utm_medium=rss&utm_source=rss_national_nsw Milton Orkopoulos found guilty of sexual assault