Michael Maguire on Jordan Mailata's journey from Redfern to Philadelphia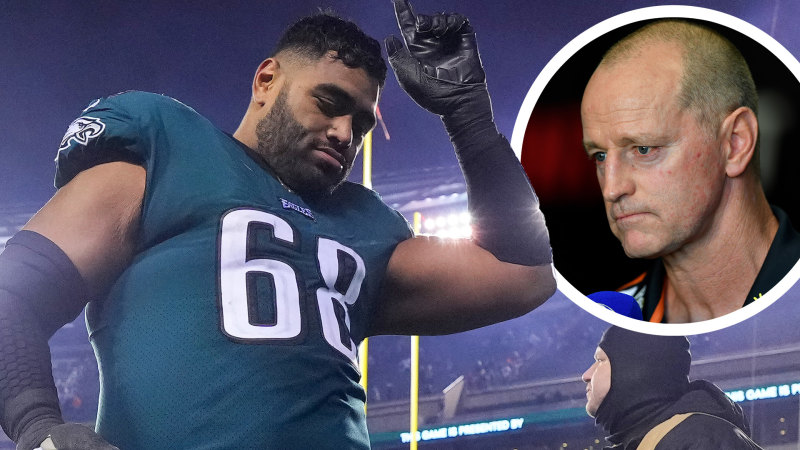 It was clear that Mailata would need to lose weight significantly to make it into rugby league. Maguire could not have been more impressed with the Bankstown product's attempts to do this.
"To his credit, he worked out every morning for two months to reduce his body weight," Maguire said. "He was in training and he was on fire.
"It's a damn good story, one of the greatest stories in Australian sport."

Michael Maguire on Jordan Mailata
"I never said he wouldn't make it [in the NRL], I was just saying that the opportunities for him to go to the NFL were potentially a lot bigger than they were in the NRL. Just look at his size and it was obvious, it was a no-brainer for me.
"He could really move; His movements for a big man were excellent. It's difficult to do that consistently for 80 minutes on a rugby league pitch and obviously strikers are now playing 20 minute stints.
"You could just see how fast he could move for a big man in short bursts, it fits with what's going on in the NFL."
Mailata reduced his weight to around 130kg to achieve his NRL dream, but it was still uncertain if he could lug his huge frame around the field for any length of time.
However, his unusual physique – he now weighs 166 kg – seemed made for the demands of the NFL.
"The one thing about Jordan that he always wanted to learn," Maguire said. "Losing weight when you're that big isn't easy, but he's always been keen to learn. That fits with what he's had to do since he crossed over; They have playbooks that are four inches thick. It's a whole different world with all the games and nuances of the game.
"He's a pretty sharp character. He's a very talented boy; he plays guitar and sings. The players and staff loved having him around.
"It's a damn good story, one of the greatest stories in Australian sport. We've had other players move to the NFL, but now he's playing in the Super Bowl."
After moving to the US, Mailata initially struggled with homesickness and the challenge of a code switch via the International Player Pathway Program. However, his perseverance was rewarded: On Draft Day 2018, the Eagles selected him as pick 233 out of 259 overall.
The 25-year-old is now considered a bargain at $16m a season after signing a new contract in 2021 and is a household name in the US.
"It's a credit to what he's done," Maguire said. "He's in one of the most important positions on the field; He protects the quarterback. That's a big role in itself.
Loading
"Jordan has moved on and pursued something that was pushed a little bit by his manager, not in a bad way. He was floating around in rugby league and his passion was the league, he really wanted to stay in the league.
"He had some challenges understanding what NFL was about, but if you fast forward five or six years later, he's in the big epoch and he's now playing in a Super Bowl.
"He was offered a $5,000 contract, the 'train and see how you drive'." He has moved on and is now in a completely different situation."
Sports news, scores and expert commentary. Sign up for our sports newsletter.
https://www.smh.com.au/sport/nfl/how-chat-with-maguire-put-mailata-on-path-to-super-bowl-20230211-p5cjpz.html?ref=rss&utm_medium=rss&utm_source=rss_sport Michael Maguire on Jordan Mailata's journey from Redfern to Philadelphia