Melbourne Rebels win over Waratahs underscores poor timing of Tim Horan questioning Kevin Foote
It was the timing of Horan's question that was amazing. Had he asked it immediately after the rebels' opening battle with the force in Perth, it would have been entirely appropriate. After a dominant first half that should have paved the way to victory, the Rebels inexplicably fell asleep. Even back rower Richard Hardwick, who has been in dynamic form this season, seemed to nod off.
Week two, however, was a very different story. As hosts of the super round, the Rebels would have been under pressure to perform. And they did it, bitterly taking the fight to the Hurricanes before succumbing directly in death. Eddie Jones is right when he says Australia should stop applauding narrow losses against the Kiwis, but somehow the hands started clapping of their own accord after the Rebels' effort.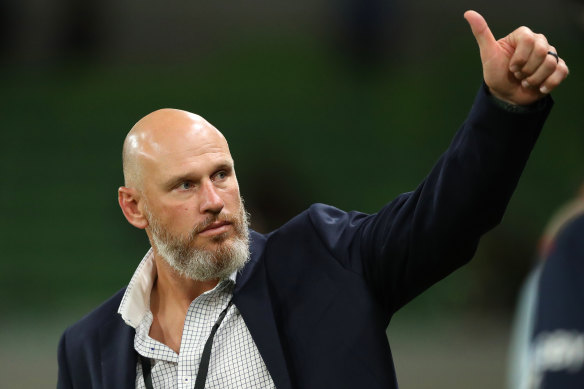 Then it was on to the third round. It's fair to say that Horan's comments were made with the expectation that the Waratahs would beat the rebels. Everyone did, judging by all the tips, and now we all need to go somewhere quiet and reflect if we've committed the sin of overrating the NSW team. Frankly, the final result, 34-27 in favor of the Rebels, did Melbourne no favours. They absolutely loved NSW and should have won with more.
Their game in the second wave against the Tahs was the best ball-in-hand attack we've seen from an Australian side in years. Five-eighths Carter Gordon, though crab-like in his running, was masterful in the way he controlled his backline. He still falls off his pass in much the same way as David Knox did, but like the 13-Test Wallaby, the good far outweighs the bad.
There is much talk of potential Wallabies playmakers, with Noah Lolesio, Ben Donaldson, James O'Connor and even a young Tom Lynagh all being discussed. But let's not discount Gordon – with one caveat. If he's to be seriously considered for higher honours, he'll need to resume his goal-scoring game and that won't be easy when Reece Hodge hits the ball so crisply.
Loading
Thanks to Sampson for moving his second-line attack to Melbourne and executing it so beautifully. But Foote is also credited for creating an environment conducive to expanding the Rebels' play patterns.
Nothing is guaranteed, but the Rebels have Wallabies Matt Philip, Andrew Kellaway and Rob Leota waiting in the wings. Everything looks promising.
Check out all the action from the Super Rugby Pacific stream ad-free, live and on-demand at every game Stan sports.
https://www.smh.com.au/sport/rugby-union/rebels-with-a-cause-show-horan-s-timing-was-off-with-coach-question-20230313-p5croq.html?ref=rss&utm_medium=rss&utm_source=rss_sport Melbourne Rebels win over Waratahs underscores poor timing of Tim Horan questioning Kevin Foote