Melbourne & Juliet Review of the musical mixing Max Martin's songs with Shakespeare's characters
No spoiling the plot of & Julia. I can tell it unfolds as a feather fight between Shakespeare (Rob Mills) and his wife Anne Hathaway (Amy Lehpamer) – introduced by their duet of Backstreet Boys' I want it this way — and the less you know about the show, the more you'll enjoy it.
Whimsical twists inspire joy, laughter and lots and lots of facepalms. It's also fun to discover how the musical brings all those shiny pop songs by Swedish lyricist Max Martin – made famous by Spears, Katy Perry, Bon Jovi and Ariana Grande – into dramatic service.
The cast is terrific. Unlike the list of pop stars on the jukebox (or even post-Hamiltonenough commercial musical theater in this country), it's also incredibly diverse.
Lorinda May Merrypor is a revelation and the beating heart of the show. She's a pocket rocket with enough fuel to vocally reach, even eclipse, the stars, and you barracks all the way for her Juliet.
She is joined by a ragtag group of friends who take her (non-binary) bestie May (Jesse Dutlow), Hathaway in disguise and Juliet's nurse Angelique (Casey Donovan) on a wild romantic adventure in which they meet the ghost of Romeo (Blake Appelqvist) and new love interest Francois (Yashith Fernando) along the way.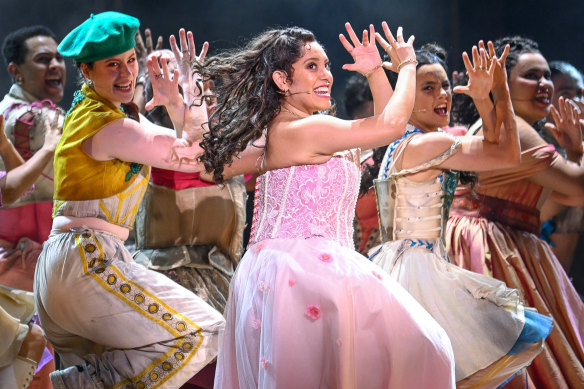 This is perhaps the most sophisticated musical to grace Melbourne's stages since Priscilla, Queen of the Desert – but it's more fun than Moulin Rouge! or Ballroom only – and it has more heart. Sure, the music video-esque choreography isn't for everyone, but excellent sound design and powerful voices give the event a real pop concert thrill, and Merrypor, Donovan and Appelqvist channel celebrity glamour, even if they mock it.
Iconic comedy and authentic poignancy meet in this millennial pop sequel to a classic. Lovers and performers alike unveil the stars in this show: and all in the spirit of Shakespeare, of course it is.
https://www.smh.com.au/culture/musicals/juliet-without-romeo-will-play-with-your-heart-get-lost-in-the-game-20230310-p5cr26.html?ref=rss&utm_medium=rss&utm_source=rss_culture Melbourne & Juliet Review of the musical mixing Max Martin's songs with Shakespeare's characters