Melbourne Cemetery strikes again for NSW Waratahs as hungry rebels claim first victory
With just one win from three games and a trip to Wellington next week, NSW's hopes of a top-four finish already look questionable.
"We're really disappointed," said Waratah's captain Jake Gordon. "We're just loose at the moment, easy on the carry, easy on the collapse, we invited their back row on the ball all game. They did well. I was happy with our first 20 (minutes), quite disappointed we didn't get away from there with two tries and we struggled to come back from that.
Rebels captain Brad Wilkin said the win was a huge morale boost for the club.
"It was really important. We played some good footy in patches for the first three weeks… so it was really comfortable to keep going. We let them come back into the game but coming back put in a good fight and was really enjoyable," Wilkin said.
The Rebels, who were without stars Andrew Kellaway, Matt Philip and Rob Leota, will draw tremendous confidence from a brave and committed win that was imminent after they almost crushed the Hurricanes last week.
After some late substitutions that saw Ned Hanigan, Max Jorgensen, Dave Porecki and Te Tera Faulkner all absent, the Waratahs started restless and remained restless for most of the first half.
The early exchanges were ready but rough, and it took eight minutes for the Waratahs to earn their first points from a scrum penalty.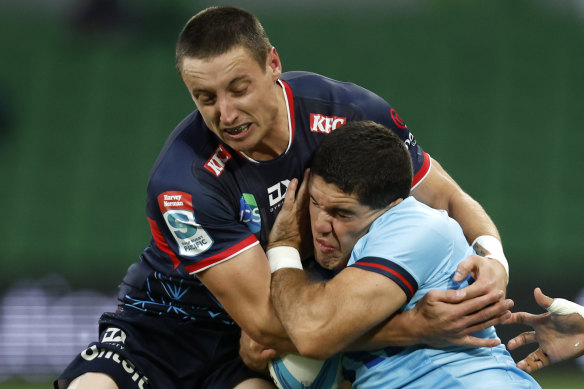 NSW started to build momentum but did not capitalize on it after getting over the line twice but both attempts were ultimately disallowed.
Nemani Nadolo caught a wide pass and dived into the corner, but Nick Jooste's defense did just enough to let the ball touch the line.
Two minutes later, Langi Gleeson, with a superb line, saw the No. 8 charge through a gap and sprint 25 yards to the line, but a desperate tackle from Monty Ioane caught him and he was penalized for kneeling over the line had pushed line.
Loading
The Rebels turned the tables shortly after when an aimless NSW kick from their half landed the ball in Stacey Ili's hands and he unloaded for Lachie Anderson. The former Sevens star broke the last line of defense and Reece Hodge won the race by a goal.
The Rebels tried to take advantage of most of Nadolo and scored again shortly after, this time Hodge plucking from behind his wing. Anderson was the beneficiary this time and he scored and laid after a spectacular re-collection.
Edmed pulled back a penalty but NSW errors in their half and urgent pressure from the Rebels saw the hosts hammer the Tahs line again. The numbers were eventually found far left, and busy flanker Richard Hardwick scored a third try.
NSW had a good chance to retaliate a try just before half-time with two attacking lineouts, but Hardwick made a huge steal down the line to thwart the tiring Waratahs.
Check out all the action from the Super Rugby Pacific stream ad-free, live and on-demand at every game Stan sports.
https://www.smh.com.au/sport/rugby-union/melbourne-graveyard-strikes-again-for-waratahs-as-hungry-rebels-claim-first-win-20230310-p5cr82.html?ref=rss&utm_medium=rss&utm_source=rss_sport Melbourne Cemetery strikes again for NSW Waratahs as hungry rebels claim first victory