Melbourne Airport faces disruption as a fuel station strike looms
Passengers traveling via Melbourne Airport on Wednesday could face major disruption as Qantas, Singapore Airlines and other airlines are embroiled in a dispute that would leave their planes without fuel.
More than 40 workers at one of the world's largest petrol station companies, The Rivet Group, will go on a 24-hour sheltered strike at 4am on Wednesday if their demands for higher wages and better working conditions are not met.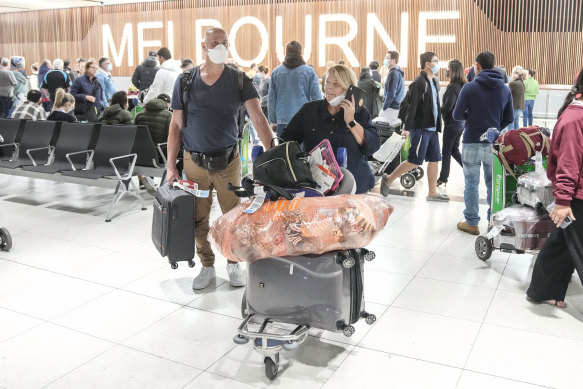 The workers have been negotiating with Rivet for more than a year and say they have not received a pay raise in the past three years. All but two of the group's 44 Melbourne Airport employees are entitled to the protected measure if the company fails to respond to their demands, including improved overtime regulations and furlough entitlements.
Rivet represents Exxon Mobile, which serves major cargo and passenger airlines including Qantas, DHL, Cathay Pacific, Singapore Airlines, Fiji Airways and Qatar Airways. Qantas is its largest client in Melbourne and accounts for about 60 percent of its work at the airport.
The Transport Workers Union wrote to Rivet on Friday to update them on the industrial action and encouraged management to respond responsibly to workers' requests to avoid disrupting flights from the airport.
"For a year, Rivet tankers have been trying to reach a fair settlement but have instead been faced with base pay freezes that are affecting their pay now and long into the future. In the current cost of living crisis, it is unacceptable to expect workers to take on extra responsibilities and work harder, faster and longer to make ends meet," said the union's deputy industry secretary, Mem Suleyman.
'For a year, Rivet's service stations tried to reach a fair settlement, but were instead faced with a base wage freeze.'

Mem Suleyman, Assistant Branch Secretary, Transport Workers Union
Rivet chief executive Mark Rowsthorn said the company's two previous offers to the union had gone unanswered and were not considered unsatisfactory. Rowsthorn said management contacted the union on Monday to find out which parts of the package were not meeting workers' expectations.
The Transport Workers Union said workers had demanded a "fair package" including a pay rise recognizing three years of stagnant wages, more manageable rosters and certainty about working hours, improved overtime regulations, protected pensions, improved furlough rules and holiday penalty interest protection.
https://www.smh.com.au/business/companies/melbourne-airport-braces-for-disruption-as-24-hour-strike-looms-20230306-p5cppe.html?ref=rss&utm_medium=rss&utm_source=rss_business Melbourne Airport faces disruption as a fuel station strike looms