Meet the budgerigar that speaks a First Nations language
First Nations artist Cassie Leatham was startled to hear her blue budgie — which she spontaneously bought for $35 from an East Gippsland pet store amid the pandemic lockdowns — chirping in the Taungurung language.
"Wominjeka daungwurrung Biik, Mr. Beaky" (meaning "Welcome to the land of Taungurung, my name is Mr. Beaky") is a phrase the bird squeaks. "Ngun Godjin" (Thank you) is another. A third is "Yanggurdi Biik" (Walkabout on Country).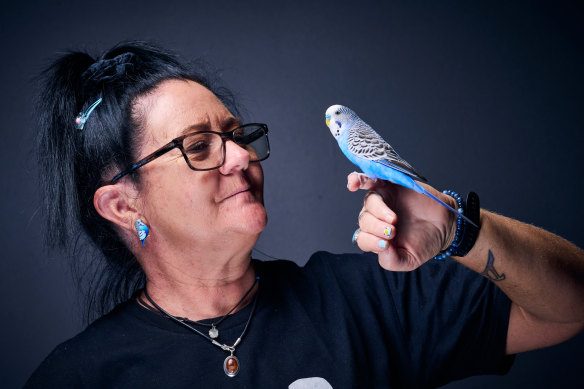 "I was like, 'No, that's not right,'" Leatham said. She then thought the bird must have picked up a few words after overhearing her First Nations art class over Zoom.
"Nobody believed me, so I recorded it."
After convincing others, Leatham and the Talkative Bird became a traveling roadshow, crisscrossing Victoria and stopping at primary schools to teach hundreds of children about First Nations language, culture and identity through her children's book An important message from Mr. Beaky. As Leatham reads aloud, Mr. Beaky joins in by saying phrases from the story. The couple will be holding book readings for the NGV Kids Summer Festival at the Ian Potter Center on January 17-19.
The depiction of indigenous identity in her book was particularly important to Leatham, who saw the parallels between Mr. Beaky – who is colored blue while other native budgies are yellow and green – and herself.
Leatham, who regularly explains to curious schoolchildren why she doesn't have darker skin compared to other Indigenous Australians, said one of the phrases Mr Beaky squeaked in English was, "Just because I'm not green doesn't mean I am." I cannot be seen."
"Mr Beaky says just because he's not green doesn't mean he's not native to Australia," she said.
https://www.smh.com.au/culture/art-and-design/meet-the-budgie-coming-to-melbourne-that-speaks-a-first-nations-language-20230113-p5ccc6.html?ref=rss&utm_medium=rss&utm_source=rss_culture Meet the budgerigar that speaks a First Nations language