Meet Ruva Ngwenya, the Australian actor set to play the rock queen
Ruva Ngwenya made her stage debut at the age of 15 singing Tina Turners River deep, mountain high in a high school production. Now, at the age of 30, she's taking it a giant step further – making her debut as a professional leading actress by playing the legendary singer Tina: The Tina Turner Musicalwhich will open in Sydney in May.
"It's a once-in-a-lifetime opportunity, and I don't take it lightly," Ngwenya says during a break from intense one-on-one rehearsals for the role. "I am very, very lucky. I kinda can't believe it's me!"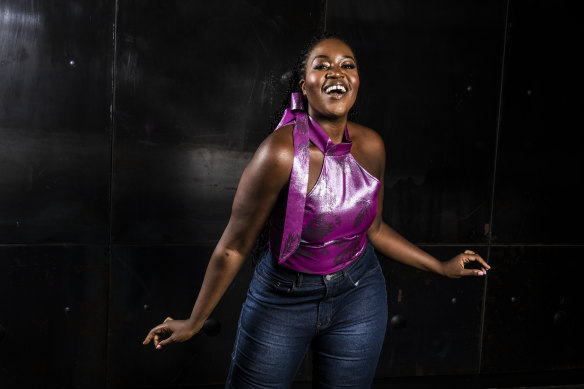 One of the best-selling artists of all time, Turner is almost as well known for her outlandish dance moves as she is for her powerful voice. She is also one of the great survivors of the industry. Originally rising to stardom in the 1960s with her husband Ike, who was later revealed to be abusive, she made a comeback in the 1980s with a huge solo career that included one memorable role Mad Max: Beyond Thunderdome. A 12-time Grammy winner, she has also been inducted into the Rock and Roll Hall of Fame twice – with Ike in 1991 and solo in 2021. She has sold over 200 million records.
The musical was developed by Stage Entertainment, producer Tali Pelman and Turner himself. Pelman drove to her home in Switzerland to speak to an initially uncertain Turner about the idea, and got away with her blessing. The show debuted in London in 2018 and traces her life story – with brutal honesty the writers say – from early days with Ike and his band to their later success. And of course, it includes many of the Nutbush, Tennessee woman's greatest hits, among them What does love have to do with it, A private dancer, Proud Mary And City limits of Nussbusch.
If taking on the challenging role of the triple threats as the lead in a musical is a big step, playing a real-life person is a whole different challenge. The pressure is the next level, says Ngwenya, whose heritage is Zimbabwean. But she was buoyed by the statement of encouragement Turner sent to the Australian cast and crew, in which she said, "I'm confident Ruva will bring her own soul to the role."
"It was nice to get confirmation from Tina herself that I should bring my own essence to the character and make it my own as I tell her story," says Ngwenya. "Ultimately, no one can May be Tina Turner. She is iconic and unique. It's not my goal to karaoke or emulate or replicate her – it's to tell her story with energy, vibrancy and truth."
Her experience auditioning for this show was unique, she says, especially because the global creative team includes many people of color.
"I just feel like I'm not the only person in the room, which has been most of my career," she says when asked how it's different. "[Usually] I was the only black person there, except maybe The Lion King. It feels very different this time. There is a lot of variety everywhere."
https://www.smh.com.au/culture/musicals/i-can-t-believe-it-s-me-meet-the-australian-set-to-play-tina-turner-20230208-p5ciy7.html?ref=rss&utm_medium=rss&utm_source=rss_culture Meet Ruva Ngwenya, the Australian actor set to play the rock queen