"Meet Me in the Bathroom" is a time capsule of the New York indie rock scene of the 2000s
In fact, the film, which Goodman executive produced, ditches many of the tired tropes that plague so many music documentaries. None of the main actors are filmed today in their mid-forties, there are no talking heads to give us their opinions, and the documentary is accompanied by readings by Walt Whitman grass leaves ("Give Me the Streets of Manhattan") and features a montage of the scene's early glory years, narrated by Frank Sinatra It's been a very good year.
Extensive use of archival footage allows viewers to experience the period in full, from Karen O, the dynamic Yeah Yeah Yeahs frontwoman, as a young aspiring songwriter playing acoustic guitar at an open mic night, to Interpol vocalist Paul Banks wandering the ash-covered streets of downtown Manhattan on September 11, 2001 in a daze.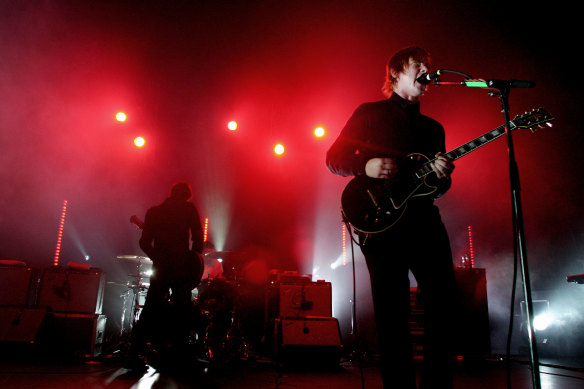 In fact, the film focuses on 9/11 as an electrifying moment for the scene and the people in it. Many musicians moved from Manhattan to Williamsburg and other parts of Brooklyn during the day and dedicated themselves to their art.
"Everyone has that emotional mass of emotion that comes in their early 20s," says Goodman. "And while that's universal, not everyone goes through it at a historical moment where one century ends and another begins. And of course, if you lived in New York, there is also 9/11."
If we follow key figures like Karen O, Paul Banks and Julian Casablancas of The Strokes, it becomes painfully clear that these were shy, awkward, insecure outsiders who had burning ambition and a desire to connect with other people through music. But when admiration and fame came, they were ill-equipped to deal with it.
Casablancas only felt he was in control of the narrative when he was writing songs; Banks still felt like he was outside the club, even as his band became successful.
But perhaps the most powerful story, and the one Goodman references most, is that of Karen O. As the most visible woman on the scene, she experienced misogyny and sexism, and combined with her deep shyness, she channeled her frustration and anger nightly into her manic performances and regularly injured herself. I experienced the high point when the band played in Sydney in 2003. After just a few songs, she tumbled right over the edge of the stage, landed on her head, and—after getting back up and somehow managing to perform another song—was rushed to the hospital with a concussion.
"I knew all of these people to some degree, and they all had insecurities mixed with talent and unrelenting drive," says Goodman. "I never felt like Madonna, but I felt like I could be those people. It didn't mean I wanted to be a rock star, but seeing Karen on stage made me feel like the things I wanted to do with my life were possible. Watching her gave me courage, it motivated me, it inspired me. It enlightened me."
Of course we know the end of this story. After all, both music and New York are in constant flux. As this music scene rose and fell, New York changed radically in the noughties. Williamsburg, where so many of these musicians moved for cheap rent, was still mostly a post-industrial wasteland of semi-abandoned buildings in the late '90s. Within a decade it became hyper-gentrified and is now one of New York's healthiest neighborhoods.
Loading
Opening the film, Kimya Dawson of anti-folk duo Moldy Peaches talks about 1999 and how she felt she was two decades late for New York, that nothing was happening musically and nothing would ever happen again. Of course, it turned out that she was on the cusp of a golden era.
But the question must be asked: was this New York's last breath in building a vibrant and far-reaching rock scene, or will something rise again in the future?
"One of the most consistent things about New York is the question that's asked about every scene that makes it," says Goodman. "The technological changes in music, in the creative industries and in the way we consume media are massive. Everything is different now. Book and film document the end of an analogue existence.
"But the idea of ​​moving to a city and finding people who will give you permission to become a version of yourself that you don't have access to on your own? It's profound and evergreen and eternal, and I'm confident that New York will always be a place of reinvention. That will never die. Betting on New York not coming back is a losing bet."
meet me in the bathroom opens in theaters on March 16th.
The Booklist is a weekly newsletter for book lovers from book editor Jason Steger. Get it delivered every Friday.
To read more spectrumvisit our site here.
https://www.smh.com.au/culture/music/the-strokes-karen-o-interpol-what-happened-to-noughties-indie-rock-20230313-p5crny.html?ref=rss&utm_medium=rss&utm_source=rss_culture "Meet Me in the Bathroom" is a time capsule of the New York indie rock scene of the 2000s