Matthew Macfadyen plays the British MP who faked his own death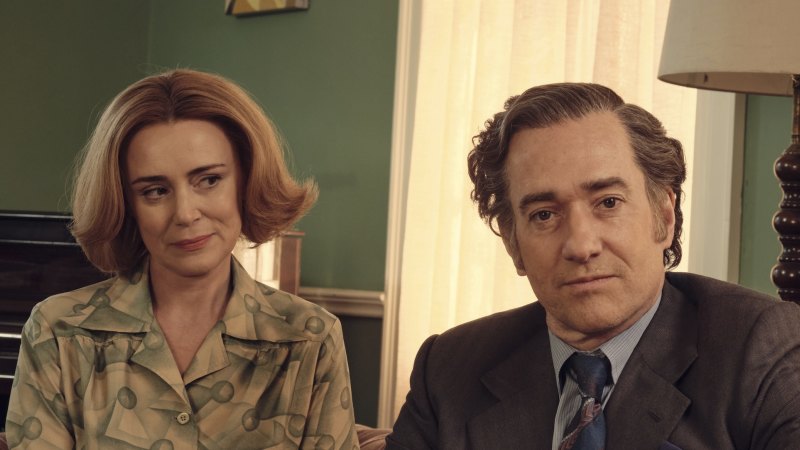 "The whole Stonehouse story is really quite bizarre and probably not well known enough these days," Macfayden tells this imprint, admitting he knew little about the scandal before reading the script. "Just all the motivation to fake his own death and leave behind a family that he loved and doted on. It was such a fascinating prospect to be a part of."
Macfadyen, who wears puffy, horrific fake teeth and wears contact lenses to change the color of his eyes for the role, says he was drawn into the project by Preston's "great writing," the real-life intrigue surrounding Stonehouse, and some other minute similarities with his infamous character in the HBO smash hit.
Loading
"There was definitely cross-pollination and degradation of Tom," he says. "Both characters like being in power – and both are grotesque. That's probably where it ends, though.
"I thought he was pretty simple, pretty cute. And oddly lovable, even though he did a really terrible thing, which was to leave his wife and children, abandon them and disappear and try to start over," he says. "He's a fascinating character. Buggy and interesting and weird. Very strange."
For the first time since their marriage, Macfadyen will play Keeley Hawes' husband on screen, who will be cast as Stonehouse's wife, Barbara. The couple who fell in love on set haunted In 2002, Maggie, 17, and Ralph, 16, shared children, and she later starred in the comedy in 2007 death at a funeral together.
"You think is this going to be a little naff or cute or something, but actually it was really nice. And she's a brilliant actress," he says.
Instead, filming became like a vacation for the couple, sharing cozy time in an Airbnb while filming near Birmingham and even taking their dog with them.
Stonehouse, who was facing fraud charges at the time he faked his own death, had impressed Prime Minister Harold Wilson (played by Kevin McNally) early in his parliamentary career. He came from the working class, graduated from the London School of Economics, was in the RAF during the Second World War and seemed the ideal candidate for a life in politics.
As the drama unfolds, it becomes clear that Stonehouse's reputation as a devoted family man belied the truth, as he had begun an extramarital affair with his secretary, Sheila Buckley (show trial star Emer Heatley) and acted as a spy for the Czech secret service in the 1960s.
Stonehouse's mother, Rosina, then 80, had told the press at the time of his arrest that the rumors about her son that had been published since his disappearance were "absolutely defamatory". They included claims that he was a communist spy, an American CIA agent and a failing businessman. Other accounts described him as a James Bond-type character, wealthy and elegant.
Preston, who embarked on his screenwriting foray into the three-part miniseries, says he's always been drawn to "that persistent, mostly male fantasy" of disappearance. He describes the story of Stonehouse trying to start a new life in Australia under an assumed name as "one of the most bizarre real-life stories" he's ever come across.
"While he might have had a dark charm, Stonehouse was hardly dark," says Preston. "He was, however, a man who carried a huge suitcase full of secrets."
He said he doesn't think Stonehouse, as a spy, gave any vital information to the Czech authorities who had nursed him, but nonetheless he was happy to take her money and meet regularly with his "supervisor" embassy.
"The worst thing he did was let his wife and kids think he was dead," he says.
Loading
Stonehouse's complex financial status and relationships eventually took their toll, leading to his deliberately stealing the identity of a recently deceased member after discovering it from the then-recently released film version of Frederick Forsyth's best-selling book The Day of the Jackal that it was easy to get a false passport.
Director Jon S. Baird, best known for his adaptation of Irvine Welsh dirt with James McAvoy and Stan & Olliabout comedy legends Laurel and Hardy, says he inherited a script that was funny, surreal and bizarre.
"And there's a tragic element," he says. "But it's the fact that Stonehouse really thought he could get away with it. The technology was still in the pen and paper stage then and not in the big computer systems we have today, so he believed his own hype, believed he was untouchable and had a messiah complex."
Upon learning that Stonehouse was alive and in Australia, a family spokesman issued a statement to the press: "We all want to know his story and it had better be a good one."
In that regard, he did not let her down.
Stonehouse will begin streaming on BritBox from Tuesday 17th January.
https://www.smh.com.au/culture/tv-and-radio/stonehouse-matthew-macfadyen-on-the-british-mp-who-faked-his-death-20221222-p5c8bp.html?ref=rss&utm_medium=rss&utm_source=rss_culture Matthew Macfadyen plays the British MP who faked his own death