Man charged with paramedic's murder
When officers arrived, they were confronted with a knife by the 21-year-old and tasered the man in an attempt to help the injured 29-year-old, Lanyon said.
Several bystanders who tried to help Tougher were also confronted, Lanyon said.
The man, from Raby, south-west Sydney, was arrested and taken to Campbelltown Police Station for questioning.
The 21-year-old has since been charged with murder by homicide and was denied bail to appear at Parramatta Magistrates' Court on Saturday.
Morgan said Tougher's colleagues "worked valiantly to resuscitate and save the life of their fellow paramedic."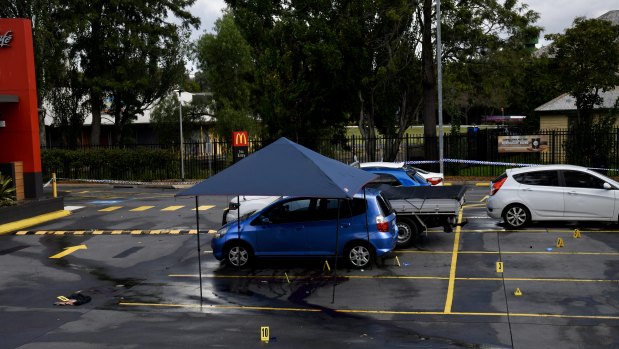 "Unfortunately, it wasn't meant to be," he said.
Tougher died a short time later at Liverpool Hospital.
"Being the person who witnessed the event is something you would never get over as long as you live," Morgan said. "This will be a very long time for NSW Ambulance and the wider family to recover from such a traumatic event."
Lanyon said police have significant evidence to help them, including CCTV footage.
He said the 21-year-old man may have been driving around the Ingleburn and Campbelltown areas in a blue Honda Jazz sedan and asked anyone who might have seen the car to contact the Campbelltown police station.
Morgan said he spoke to Tougher's family beforehand.
"This young man, told to me by his father when he was five, knew he wanted to be a paramedic on a NSW ambulance," Morgan said.
"He has only been with us for a relatively short time and had recently learned that he had been transferred back to south west Sydney. I was told he was just so glad he was staying here with his family, raising his kids and looking forward to the area he lived in and loved more than anything."
NSW Health Secretary Susan Pearce choked back tears as she offered her condolences to Tougher's wife and family.
"The healthcare system is one big family and to lose someone in this way is incomprehensible to us," Pearce said.
"Everything we can do to support our paramedic's loved ones will be done."
NSW Health Secretary Ryan Park also fought back tears as he told paramedics: "We support you and thank you and this loss will never be forgotten.
Loading
"This is a very dark day for the people of NSW," he said, offering his deepest condolences to Tougher's family, friends and colleagues.
"It highlights the very real dangers that all of our responders face and the risks they face by donning this uniform every day."
When asked whether the state government would consider taking action to protect paramedics and other frontline workers, Park said it was the subject of wide investigation.
"If there are any recommendations along these lines, we will do what we can," Park said.
The deadly sting comes four years after NSW Ambulance introduced a body-worn camera pilot to Sydney's Eveleigh, Liverpool and Hamilton stations to keep paramedics safe on the job.
In 2019 there were more than 400 reported incidents of occupational violence against paramedics. Many of these incidents involved kicking, shoving and spitting, according to the NSW Ambulance's It's Never OK campaign.
Between November 2019 and June 2022, body-worn cameras were used in more than 13,000 incidents, capturing 245 incidents, of which 7 percent were classified as assault, 15 percent as other forms of workplace violence, and 78 percent as a potential threat.
However, the death of a NSW paramedic during the shift is rare. In 2011, special paramedic Michael Wilson was killed while rescuing an injured canyoner at Carrington Falls south of Wollongong on Christmas Eve. Wilson's death on the job was the first for NSW Ambulance in three decades.
Health Services Union NSW secretary Gerard Hayes described the paramedic's death as a deep tragedy and said the union extended its deepest sympathy and support to his family and colleagues.
The Morning Edition Newsletter is our guide to the day's most important and interesting stories, analysis and insights. Login here.