Majority of Americans Want Ketanji Brown Jackson on Supreme Court: Poll
A majority of Americans want Justice Ketanji Brown Jackson to serve on the Supreme Court.
the Gallup Poll, recorded in early March ahead of this week's confirmation hearing, shows that 58% of Americans say they want the US Senate to confirm Justice Jackson. American support for Jackson's confirmation is one of the highest for a SCOTUS candidate since 1987, according to Gallup.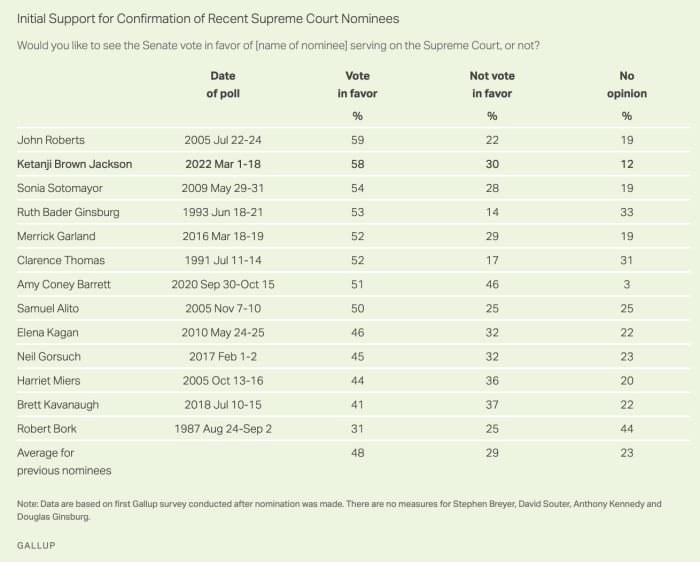 Gallup says polls have been conducted to gauge support for all Supreme Court nominees since 1987, except for current Justices Anthony Kennedy, David Souter and Breyer, and Douglas Ginsburg — who died shortly after his nomination and before he received confirmation could, withdrew Listen.
Among the nominees named in the poll, Jackson is the second-highest at 58% "for" — behind only current Supreme Court Chief Justice John Roberts.
The survey surveyed 1,017 American adults and has a four percentage point margin of sampling error.
Jackson was nominated in February by President Joe Biden, who made good on his campaign promise to nominate the first black woman for the Supreme Court.
https://www.marketwatch.com/story/majority-of-americans-want-ketanji-brown-jackson-to-serve-on-the-supreme-court-poll-shows-11648056366?rss=1&siteid=rss Majority of Americans Want Ketanji Brown Jackson on Supreme Court: Poll