Madeleine King calls on mining companies to support the Voice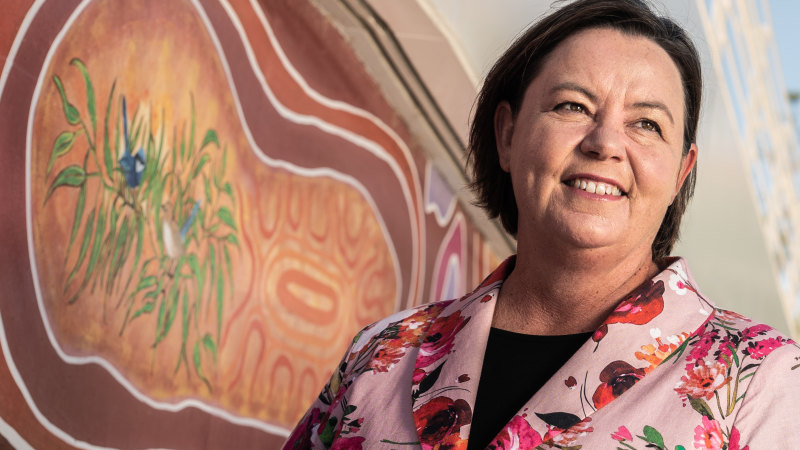 "I mean that's obviously ridiculous and a bit obscene to throw that around. This is a principle to ensure that Indigenous Australians have a body to advise Parliament on legislation affecting them. There is no veto; it is a voice. And it's about damn time they got a voice.
"And the commodities sector has to get behind it too – because they know their balance sheet."
"While people can hyperventilate and make doomsday predictions about this, I find that overblown and ridiculous."

Madeleine King, Federal Minister for Resources
When asked if she supports the voice, Tania Constable, chief executive of the Minerals Council of Australia, said: "The MCA supports a voice and has a long proven history of listening to Aboriginal and Torres Strait Islander communities."
A spokesman for Fortescue said the company "acknowledges and respects the Albanian government's commitment to establishing a First Nations voice".
"Importantly, this will be up to the Australian people to decide in a referendum. We support all initiatives that improve the lives of Indigenous Australians and end the inequality that currently exists between Indigenous and non-Indigenous Australians," the spokesman said.
Australian Petroleum Production & Exploration Association chief executive Samantha McCulloch, which represents the big oil and gas companies, said her panel was "consulting with its members on this important issue for Australia and will formalize the industry's position ahead of the referendum".
Loading
"Australia's oil and gas industry recognizes and recognizes the Aboriginal and Torres Strait Islander peoples as the first peoples of Australia," she said.
The Albanian government has had a strained relationship with the gas sector since it intervened last month to introduce a price cap to stem soaring electricity bills for households.
Treasurer Jim Chalmers last week warned gas producers whose behavior is being closely watched by Australia's Competition and Consumer Commission after they complained about withholding new bids to supply retailers with cheaper gas under emergency caps.
Energy Secretary Chris Bowen pledged on Saturday that the effects of the government's intervention would spill over to Australians by May when Australia's energy regulator sets its new standard market offer.
"The increases will be smaller than they otherwise would have been," Bowen said.
Gas producers have argued that the temporary price cap announced last month could deter investment in new projects and increase the risk of gas supply shortages.
King acknowledged that gas companies "are not necessarily all that happy with the price cap," but said it was a "short-term measure to deal with the international global energy crisis" and was only introduced after the industry failed to self-regulate.
"This isn't a path we're happily embracing, it's not something we're keen to do," she said.
The industry remained locked in talks with government officials over a mandatory code of conduct to come into effect when price caps end, with the government looking to include a rule that would permanently oblige producers to sell gas at a "reasonable" price.
King said she encourages gas companies to assert their views because she "wants a code of conduct that can work over the short term."
When asked if there was a real risk of international investors from countries like Japan investing in gas projects in other parts of the world due to price caps, King said: "I've always been very aware of the need for international investment in this country".
"While people can hyperventilate about it and make doomsday predictions, I think that's overkill," she said.
"Australia remains a very safe place for all kinds of investments in all kinds of industries."
King said the gas industry in Australia and around the world "has a long-term future" as long as it continues to invest in the latest technologies to minimize and capture carbon emissions and invest in carbon offsets.
"The industrial use of gas isn't going to change any time soon – we hope that one day hydrogen can become part of that manufacturing process, but that's not the case yet," she said.
King also presented her agenda for the year, which included a focus on developing critical Australian minerals and rare earths, which would be a key feature of a meeting with state and territory resource ministers in March.
The government is currently reviewing the country's critical minerals strategy to determine how to better attract investment to extract and process Australian resources such as lithium.
"What the world needs is what Australia has, and getting it up from the ground and processing it here in an ethical and sustainable way is what the world wants," she said.
Loading
"I see it as a national mission to develop our critical minerals to become world best practice."
She said she also wants to hold the resource sector accountable for its treatment of women after a spate of allegations of bullying, sexual harassment and rape surfaced last year.
"One of my ambitions is to hold them accountable to make sure women want to work in the extractive sector again," she said.
"It's different in management sometimes, but out in the field it's clearly not a desirable job for women because they're not secure – they've proven to be not secure in the past."
Break through the noise of federal politics with news, perspective and expert analysis from Jacqueline Maley. Subscribers can sign up for our weekly Inside Politics newsletter here.
https://www.smh.com.au/politics/federal/the-least-they-could-do-resources-minister-urges-mining-gas-giants-to-back-voice-20230117-p5cd8b.html?ref=rss&utm_medium=rss&utm_source=rss_politics_federal Madeleine King calls on mining companies to support the Voice