Lyon's verdict on the spinners' hard work
Ahmedabad: Nathan Lyon believes he bowled for one wicket in 37 overs in Ahmedabad better than he did for 11 wickets in 34.5 overs in Indore last week.
This is the wild contrast between the conditions for the first three Tests in India and the last, in a change in pitch preparation that gave Australian spin-bowlers recognition for posing too much of a threat to India to continue making sharp gymnasts roll.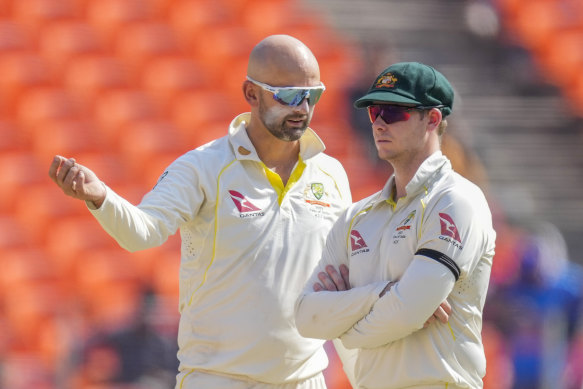 Helping to limit India to 253 runs, Lyon, Todd Murphy and Matt Kuhnemann showed plenty of ability both defending and attacking as the tourists looked to take this friendly game well into Day Five when the pitch is up worn.
"It's more of a patient game," said Lyon. "If the pitch is like it was in Indore… I felt like I bowled better today than in Indore. And it just comes down to doing your basics well enough long enough.
"I'm very proud of the performance of the boys. We knew it was going to be a tough day, a very similar wicket to Pakistan 12 months ago. So it can be a challenge for the guys to get the plans and finish scoring when you're bowling against guys like Gill and Virat on this type of surface.
"But I think the way the boys have stuck to their plans for so long is a really big moment for two young crackpots. Where are we in the game? I think it's pretty pretty to be honest, we know games in this part of the world can speed up pretty quickly so it's all about being patient for a long time and not chasing the game."
Citing similar playing fields in Pakistan around this time last year, where Australia had fought two draws with their hosts before winning in Lahore on the final day of the series, Lyon said there were many reasons to believe in victory.
Loading
"Yes, 100 percent," he said. "This is the kind of test matches that are won in the last half hour of day five and this is the kind of test matches that you want to play in. The tough grind with a possible big reward at the end. They're challenging but we're all up for a challenge and it's real grind, good Test cricket.
https://www.smh.com.au/sport/cricket/better-than-indore-lyon-s-verdict-on-spinners-hard-graft-20230311-p5craj.html?ref=rss&utm_medium=rss&utm_source=rss_sport Lyon's verdict on the spinners' hard work