Love to declutter, but there's one thing I can't throw away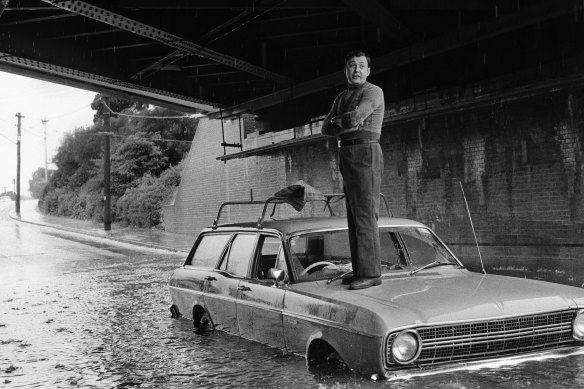 Maybe the treescape restores my balance because it's the opposite of my everyday life (sitting at the computer in an air-conditioned environment). Or maybe it helps me remember a good time – my husband's day Finally moved (Meredith Music Festival 2000, between trees and tents).
Another artwork I love is a black and white photo of a man standing on top of a car that is half submerged in a flooded underpass. I like the narration and the ridiculousness of the scene – the look on his face! But maybe it also reminds me that grief is part of life – something everyone experiences – so don't panic about my own difficulties.
As I go through PowerPoint presentations during my classes, I encourage my students to think about how they can relate to each image. It doesn't matter if we're looking at Aboriginal rock art, Renaissance classics, or a contemporary Ben Quilty, my question is the same: "What does that mean? do to you?"
This teaching method was somewhat inspired by this excellent ABC series Everyone is a critic (2018) in which Australians regularly visited some of Australia's finest galleries and discussed a range of artworks. They weren't experts, and that's what it was all about.
There is no test at the end of the semester; My students don't need to remember an artist's name, or the year something was made, or what medium was used – I just want them to connect with the art and respond to it in some way. It's personal and you can't go wrong.
Loading
Do you prescribe them? Art as Therapy The seven function theory suggests the fact that humans have been creating and collecting art for millennia is valuable – not only for gallery curators and art history teachers, but for everyone.
So my inability to throw away my art collection is okay, right? It enriches my life in a way my other possessions don't. The problem is, when my kids move out, I plan on downsizing into a tiny house (no, not a tent – I want solid walls). And while I won't have any trouble throwing out excess kitchen utensils, clothing, electronics, or furniture, I don't know how to sort out my artwork.
I think I just need to turn them into a PowerPoint presentation. And keep an original piece to hang on the back of the toilet door.
The Opinion newsletter is a weekly collection of views that challenge, support and inform your own. Sign up here.
https://www.smh.com.au/culture/art-and-design/happy-to-declutter-but-there-s-one-thing-i-can-t-throw-out-20230112-p5cc6u.html?ref=rss&utm_medium=rss&utm_source=rss_culture Love to declutter, but there's one thing I can't throw away