Lorde Review, Florence + The Machine Review, and Bikini Kill Review
The alternative queen sings that "all the music you loved at 16 will grow out of you," but the resonant chants of her lyrics prove otherwise.
Lorde has another show in Sydney at the Aware Super Theater on Tuesday 14th March.
---
FLORENCE + THE MACHINE
Qudos Bank Arena, March 13
Reviewed by BERNARD ZUEL
★★★★

Saying Florence + The Machine is going big is like saying Hugh Grant didn't want to be on the Oscars red/champagne carpet, right Naatu Naatu had some dance moves. In fact, a proper Oscar reference would say Flo + The Mo is everything at once in concert. And that's a well-deserved compliment with seven trophies.
Drums in quasi-metal daffodil land like the punches Florence Welch throws to start the night, and the harp ripples like the drapes of her dressing gown (an outfit style repeated a hundred times in the flower-wreathed audience). Backing vocals expand to invisible choir status in the Florid dream girl evilAnd ship to wreck comes at us with the same Hussar-charging fervor that comes from the bouncing mosh pit.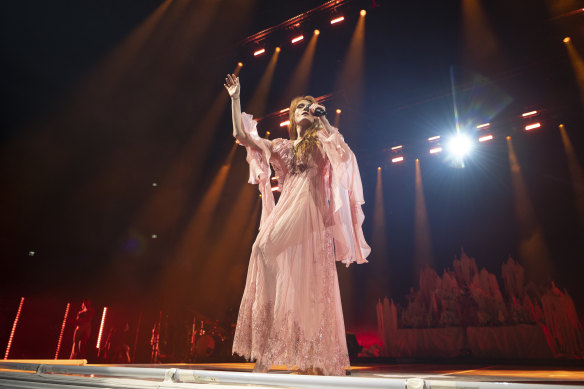 And that's on a mostly bare stage in the background, with a possibly multi-tiered table from a desolate wedding day, with candle wax covering each element. Druids are in space; Miss Haversham is in the house.
This is the concert we should have had last year when the restrictions finally eased and everyone started running like 3rd grade at 3pm. This is the concert we should have every time someone tells us the only way to do pop shows is to beat up the dancers and crank up the recorded sounds or amplify the teenage screams.
Not that there's a lack of physicality or audience participation. Then she sings loudly great godsits on the front barricade, held by hands, hoping, "You need a big god, big enough to hold your love / You need a big god, big enough to fill you".
Watching Welch run through the crowd in one of her finest Kate Bush moments, choreomania — a word for the kind of manic dancing that might have been called the St. Vitus dance in the past — is feeling the electrical surge of a contact high. God knows what kind of load it must give her. To feel the waves of voices, like the rhythm of the stomping feet of (an exciting) The bad times are over It is worth remembering that heart starter is not just an expression.
A decade ago, Welch played a show at the opera house without most of her band, and an orchestra took her place. The setlist leaned heavily on the big, tragi-comic ending to their repertoire and, in theory, should have been a big dramatic pop hit. It wasn't because light and shadow were absent and the flourishes had only one expression.
There is no such flaw here: instead of blurring the emotional fault lines, the shifting tenor accentuates each one.
If June rises, it feels persistent, unstoppable, a flood of emotions takes you away. prayer factory is Gothic splendor written in small letters, or at least brief, its ghostly presence fleshy rather than ephemeral.
And girl against god – as in hunger – is both solid and quivering.
Firm and trembling, much like her voice, that thunder-and-waterfall weapon that brings down the walls of Jericho in most songs without the need for blaring trumpets.
So yes, big. Michelle Yeoh flies-kicks-in-your-face level big.
---
---
BIKINI KILL
Opera House Concert Hall, March 13
Reviewed by JAMES JENNINGS
★★★★
In the early 1990s, Olympia, Washington band Bikini Kill used their status as outsiders in the male-dominated punk rock scene as fuel for their fiery songs, launching the riot grrrl movement and becoming feminist icons.
Almost 30 years later, the reunited bands are once again misfits, but this time because they seem like the kind of DIY punk band more at home in a beer-soaked club than the Opera House Concert Hall.
Frontwoman Kathleen Hanna ("This feels a bit like musical theater," she quips, "but it beats $2 basement shows that make people spit in your face"), whose conversations between songs are often hilarious, at times heartbreaking , the breakup doesn't get lost as fast-firing and direct as the band's catalog of short, punchy punk songs.
Loading
The show's formal sit-down nature is jettisoned once original core members Hanna, bassist Kathi Wilcox and drummer Tobi Vail, along with touring guitarist Sara Landeau, launch into the opening double whammy New radio And This is not a testthe audience dismisses the absurdity of watching a punk show from a chair by standing up.
As the band progressed through a blistering array of songs with great titles such as Resisting Psychic Death, Suck my left And I like F—KingHanna bounces around like a hop-on '60s go-go dancer, having the time of her life and claiming she's the coolest woman in punk rock.
That coolness is punctuated by unfiltered interaction with the adoring crowd, with Hanna happily noting the wide age range, ranging from grizzled Gen-Xers to tweens perhaps drawn to '90s nostalgia.
With so many young girls in the audience, it's exciting to imagine how many might be inspired to follow in Bikini Kill's footsteps and start their own bands after the show, encouraged by Hanna's advice to ignore the criticism.
The band ends with a shout-along anthem rebel girlwhich, along with the rest of the set and stories about dopey male rock 'n' roll gatekeepers, guys you shouldn't go home with, and how making music is a useful form of therapy, functions as a rough-and-tumble crash course in feminist punk Rock 101, which luckily we all got to learn from legends of the scene.
A cultural guide to going out and making love in the city. Sign up for our Culture Fix newsletter here.
https://www.smh.com.au/culture/music/three-decades-of-female-heroines-rock-sydney-in-a-single-night-20230313-p5crqd.html?ref=rss&utm_medium=rss&utm_source=rss_culture Lorde Review, Florence + The Machine Review, and Bikini Kill Review