LOGOS completes mega deal for solar modules with the Solar Bay renewable energy fund
Industrial real estate landlord Logos is one step closer to making its entire portfolio carbon neutral after striking a mega deal with the founders of Atlassian to install solar panels in its Sydney logistics district.
As part of the plan, LOGOS will work with Solar Bay, the renewable energy fund backed by software billionaire Scott Farquhar and Skip Capital by Kim Jackson and Grok Ventures by Jeremy Kwong-Law and Mike Cannon-Brookes, to create panels on to be installed on the roof of Moorebank Logistics Park (MLP). The facility is touted as Australia's largest intermodal freight facility with a final development value of US$4.2 billion.
The goal is to save 67.2 kilotonnes of CO2 emissions annually through 100 percent renewable energy, generate enough clean energy to power the equivalent of 40,000 homes in NSW and meet MLP's full daytime energy needs.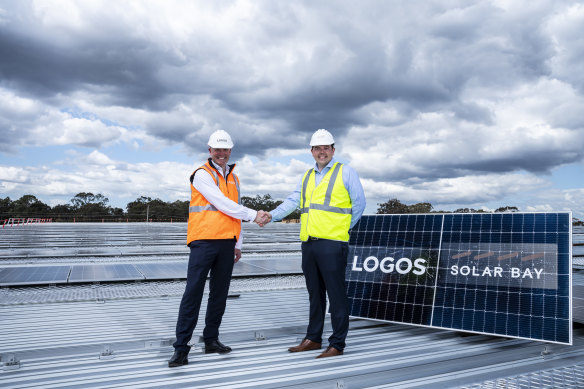 Darren Searle, CEO of LOGOS, said the deal reflects demand from building owners and tenants for sustainable, carbon neutral properties and confirmed that the program will be expanded across the Australian portfolio in the coming years.
"In terms of industrial and storage applications, investors and tenants want greener and cleaner buildings and we are focused on showing we can deliver," Searle said.
"The world has changed and environmental, social and governance (ESG) issues are priorities," he added.
LOGOS and Solar Bay will develop the district-wide microgrid, which will operate on a combination of 11kV and 33kV to provide tenants with the electrical capacity they need.
Solar Bay is a Renewable Energy Infrastructure Fund (REIF) that installs and operates generation, storage and microgrids across Australia and New Zealand. It's backed by Cannon-Brooks and Farquhar, who founded tech giant Atlassian but have become better known as shareholder activists and eco-warriors.
LOGOS is a logistics specialist with $26.5 billion in assets under management across 10 countries in Asia Pacific and is backed by ESR Group. It was founded by intellectual property veterans John Marsh and Trent Iliffe and its owned and developed properties include the Qantas buildings in Mascot and the logistics properties at Truganina and Broadmeadows in Melbourne.
https://www.smh.com.au/business/companies/logos-strikes-mega-solar-panel-deal-with-atlassian-founders-20220919-p5bj9i.html?ref=rss&utm_medium=rss&utm_source=rss_business LOGOS completes mega deal for solar modules with the Solar Bay renewable energy fund