Linq Buslines raided by NSW Police
The company at the center of the Hunter Valley bus tragedy has faced seven complaints and two violations after police searched two of its depots on Thursday and found a tour bus with a cracked windshield and another with defective seat belts.
NSW Police investigators and inspectors from the National Heavy Vehicle Regulator inspected 20 buses at two Linq Buslines depots in Wyong on the Central Coast and East Gresford near Newcastle.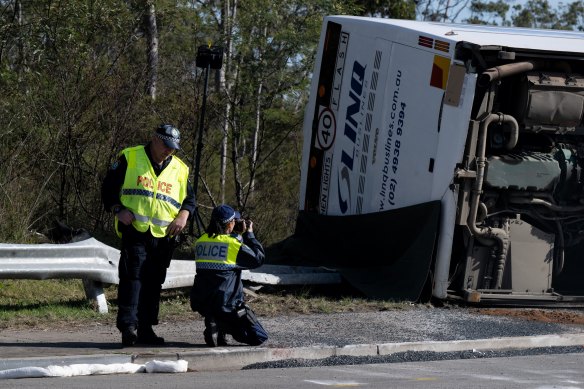 His 2009 Volvo B7R bus was being driven by 58-year-old Brett Andrew Button when it crashed and overturned on Wine Country Drive in the Hunter Valley on Sunday night, killing ten passengers and injuring dozens of passengers. Nine people remained in hospital in stable condition as of Thursday evening.
Of the 20 buses inspected, police issued seven notices of defects, which require the owner to fix a problem before the vehicle can be driven. The nature of the defects is unclear, but there was no bus ban.
Police also reported finding "a cracked windshield, oil leaks, defective seat belts and vehicle lights, and unsafe seats" in the fleet of 20 buses.
Police issued Linq two violation reports — one for using a heavy vehicle that violated regulations and another for using a heavy vehicle with defective seats.
A Linq spokesman said: "The one major flaw found in the fleet has been corrected and the minor deficiencies are being addressed per timelines set by the National Heavy Vehicle Regulatory."
Button was charged late Monday on 10 counts of dangerous driving that resulted in death and one count of negligent driving that resulted in death. He appeared in court on Tuesday and was granted conditional bail.