Lidia Thorpe's departure from the Greens is legitimately difficult to stop
There are many colorful terminologies to describe a politician who uses a political party to get elected and then leaves. Labor describes it as "ratting". In New Zealand it is known as "waka jumping" – the dangerous move of leaping from one waka (a Maori canoe) to another in mid-stream. Wikipedia even has a delightful list of "notable waka jumpers" and "historic waka jumpers". Whether Lidia Thorpe's left jump from the Greens is remarkable or historic remains to be seen.
Party defectors reveal deep cracks in our understanding of our political system. Do we elect the individual for a constituency, or do we elect a representative of a party bound by party politics? Put simply, do parties "own" a seat once they have won it in an election?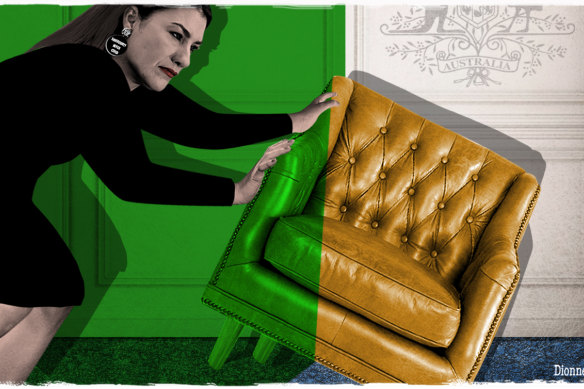 The courts have recognized an MP's duty to serve the public to the best of his or her knowledge and to act purposefully for the public good. Any contract that requires a politician to vote in a certain way in Parliament is treated as null and void as contrary to public order. Parties cannot therefore legally control the parliamentary votes of their members, although in practice they can exert strong political and moral pressure.
However, parties were recognized in the constitution in 1977. Section 15 now requires casual Senate candidates to be filled by a person from the same political party as the outgoing Senator was elected. For example, if Senator Thorpe gives up her Senate seat, the Constitution requires that a person elected by Australia's Green Party fill the seat. This is because Senator Thorpe was publicly recognized as that party's endorsed candidate at the time of her election.
The 1977 constitutional amendment recognized that voters generally vote based on the policies of a political party rather than the merits of an individual candidate. This is especially true when the Senate votes above the line for a party's candidates.
Loading
So should we have "anti-defect laws" like those used in countries like New Zealand, India and Israel? Such a law would automatically vacate the seat of any MP who leaves the party that supported them for their election. In some countries like India, it also disqualifies a person who does not vote according to the instructions of their party leader, unless he or she has the party's permission.
Quitting laws tend to have two main reasons. The first is to maintain trust with voters. When voters elect a candidate based on a declaration that the candidate will support a particular party's policies, and that candidate then no longer does so, the voters have been misled and the full effectiveness of their vote has been denied. This is particularly important when a candidate has been elected for a long term, e.g. e.g. six or eight years, during which time voters have no choice.
The second reason is to prevent corruption and to support the stability of governments. In countries with small legislatures, particularly in developing countries, the move of one or two MPs from one party to another can result in a change of government. There is therefore a strong incentive to engage in bribery, whether in the form of money or power, e.g. B. the appointment to offices. Governments can also change rapidly as party departures sway both ways, leading to economic and social instability as little can be governed and planned.
https://www.smh.com.au/politics/federal/should-the-law-stop-lidia-thorpe-from-jumping-ship-here-s-the-catch-20230207-p5cimx.html?ref=rss&utm_medium=rss&utm_source=rss_politics_federal Lidia Thorpe's departure from the Greens is legitimately difficult to stop