Labor is clearing north and inner west subway stations for higher density housing
The government has also decoupled construction of the residential buildings from the train station itself, which is due to open next year. It sits on the corner of three Liberal-held seats, all of which face challenges from blue-green independents battling so-called overdevelopment.
As announced by Opposition Leader Chris Minns last month, Scully said Labor's Greater Cities Commission would be tasked with revising local authority housing targets, which are currently being updated, with this new directive.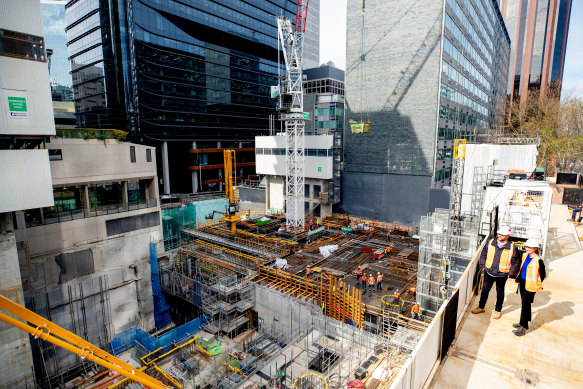 Scully also pointed out that Labor would try to curb urban sprawl on the outskirts of Sydney. "We cannot continue the endless pressure [outwards]," he said. "That makes it difficult for governments to keep up with the infrastructure challenges that come with this endless encroachment into greenfield areas."
Asked earlier at Monday's summit who should bear the brunt of increased housing density, Prime Minister Dominic Perrottet said that unlike the previous Labor government, his government had built roads and underground lines before the population had reached the point where they would be needed.
"It's about making sure we grow well as we grow and ultimately the future growth of our city is in the West," he said. "That's nothing bad."
Loading
Rebecca Grasso, director of urban growth for Campbelltown City Council, said many new greenfield developments are not successfully connecting people with jobs, so it's important to maximize existing urban centers and infrastructure through higher density.
Density also had a perceptual problem, she said. "People perceive a lower quality of life or well-being when it comes to living in high-density areas and that's absolutely not the case, and that's demonstrated very well abroad with good planning," she said.
"Greenfield is and will continue to be a challenge because we cannot follow with the infrastructure, it has to go ahead, [but] When it comes to creating business cases around the infrastructure, it's about showing the existing demand."
https://www.smh.com.au/national/nsw/labor-puts-north-inner-west-metro-stops-up-for-higher-density-housing-20230206-p5ciav.html?ref=rss&utm_medium=rss&utm_source=rss_national_nsw Labor is clearing north and inner west subway stations for higher density housing