Kings wary of "wounded beasts" even after a disastrous year.
Despite their biggest win in more than 20 years, the Sydney Kings approach Sunday's game against arch-rivals Illawarra with caution.
The Kings beat the Brisbane Bullets 116-67 on Wednesday, their widest margin since 2001. But every game they've played this season with injury-plagued Illawarra Hawks, who are at the bottom of the ladder, has been close.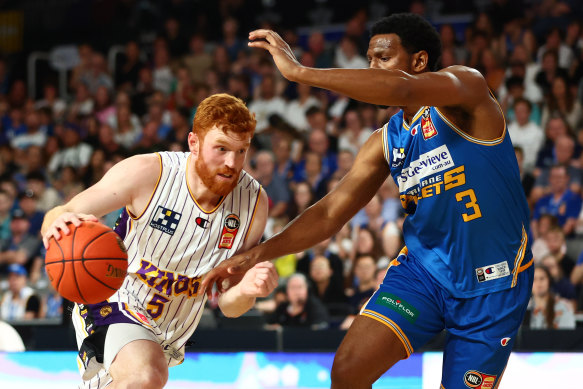 "I think you have to be concerned about an injured animal," said trainer Chase Buford. "Then they will fight the hardest."
The Kings are chasing their sixth straight win and fourth against the Hawks. They have won their last three games against Illawarra by nine, one and seven points respectively.
Loading
"Every time you have a rivalry game, there's going to be a little bit more juice from both sides," Buford said. "And these often lead to close fights, despite what the rankings say. It's always fun to play in a local derby rivalry game where both sides have as much pride as anything else."
Buford said he feels for the Hawks and coach Jacob Jackomas after a disastrous year of injuries.
"It's unfortunate for a team to be as unlucky as they were," he said. "But you know, injuries are part of the game. Early last year we had our own fair share and that can be devastating."
On Wednesday, the Hawks lost their fourth import of the season to injury when their top player, Michael Frazier II, collided with two Adelaide 36ers players and broke his arm.
https://www.smh.com.au/sport/basketball/kings-wary-of-wounded-animal-hawks-even-after-disastrous-year-20230113-p5ccb9.html?ref=rss&utm_medium=rss&utm_source=rss_sport Kings wary of "wounded beasts" even after a disastrous year.