Kimbra, A Reckoning speaks about conflict, anger and the power of vulnerability
"Maybe that's why pop stars create characters and do their makeup and hair and put on crazy costumes," she says. "Maybe it's a way to hide a bit or feel like we're still in control."
However, she feels that in order to do her job properly and make a difference, she has to sacrifice some of her emotional privacy. "Everyone has something they give up for their work."
"I've written things on paper that I just don't want to say out loud."

Kimbra on emotional honesty in her lyrics.
Sometimes when you're interviewing someone, you feel like you're both reading from a script — you can feel the barriers on the fringes of the conversation, almost ticking off talking points from an invisible checklist. This is far from the case with Kimbra. Nothing she tells me feels rehearsed. There are no carefully polished bites of sound designed to bolster an image created by the committee. Every word feels authentic, open and vulnerable.
Listeners have confided in her that her music has helped them overcome depression; that they have played their songs at friends' funerals, at weddings or to help them overcome fear.
"People really need work that illuminates things inside them that they don't dare to name yet," she says. "Especially on this new record I've put things down on paper that I just don't want to say out loud – but I knew that's why I had to say it because it made me uncomfortable. That means it's deeply true, which means it will be deeply true for someone else."
She points to the first single from her new album, save mewhich begins with the line "I'm the accident waiting to happen, it's only a matter of time."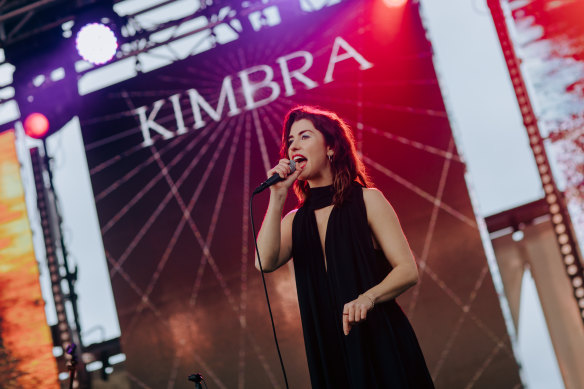 "It just felt so hard to write that down and admit to myself, that part of me really thinks I'm going to screw everything up at some point," she says. "We've all felt this way before, right? And when I've been confronted and felt that way with that line, I believe that someone else will listen to that and feel heard and seen."
Kimbra's interest in making authentic connections is expressed in many different ways. There's her music, of course, but she also has a podcast play with fire where she talks to other artists and friends about a key transcendent moment that has shaped her life and work. She's cautious about social media (although, of course, I get a million more likes when I post a selfie than when I post something I care about), but appreciates the way she uses it with her audience can interact. However, live performances occupy a special place. "It is at this very moment that we are all present."
When she is on stage, she can feel the conversation between her and the audience. "I really value eye contact, always have been," she says.
That's something I'm seeing firsthand as I watch her perform tonight. It's a pared down performance with just the bare bones of a band whose voice pierces the air.
Loading
Her eyes sweep over the audience, seeking the feedback that can only come from a live concert; the body language, the level of commitment. "I'm really interested in how people perceive the music," she tells me.
When she sees a lyrical country, when someone looks back and it's clear they've seen a part of themselves in the music, there's a sense of pride.
"I really need that connection, I need to know that my work matters and that I'm reaching someone."
A cultural guide to going out and making love in the city. Sign up for our Culture Fix newsletter here.
https://www.smh.com.au/culture/music/conflict-and-confessions-kimbra-on-the-power-of-vulnerability-20230116-p5ccy1.html?ref=rss&utm_medium=rss&utm_source=rss_culture Kimbra, A Reckoning speaks about conflict, anger and the power of vulnerability