Kevin McCarthy loses consecutive polls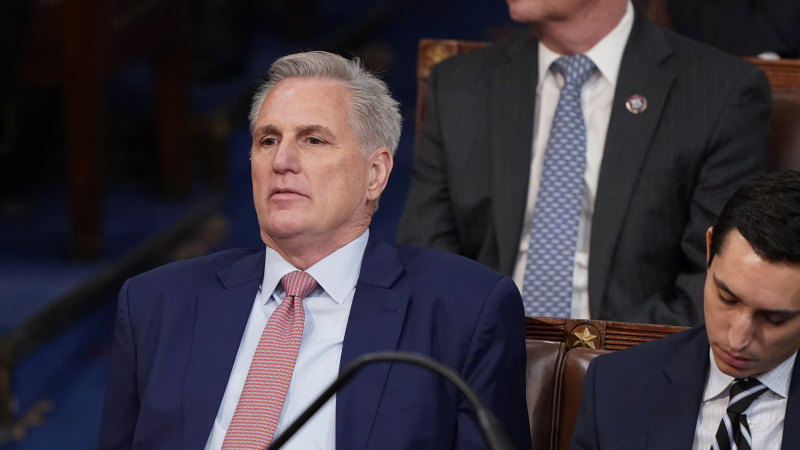 Countless hours have been spent in the past few weeks negotiating with his critics, many of whom view McCarthy as a sellout of the "establishment" single-mindedly obsessed with winning the Speaker's Gavel.
He agreed to remove the input magnetometers around Capitol Hill. He agreed to set up a new special committee on the alleged "armament" of the Justice Department and the FBI. And in the clearest sign of a weakened leader committed to his right flank, he even agreed to change party rules so it would be easier to oust him as speaker by lowering the voting threshold required to do so.
Still, it wasn't enough.
Indeed, in the final tally of the first ballot, McCarthy not only missed the votes he needed—Democratic leader Hakeem Jeffries, who was nominated by his party as alternate speaker, ended up getting more votes than he did, despite the Democrats' lack of a majority in the House of Representatives to have.
Then, as the second round of voting began, far-right Republican Matt Gaetz, who originally voted for Arizona Republican Andy Biggs to be speaker, nominated Jim Jordan for the job — minutes after Jordan endorsed McCarthy for the role. What a mess.
Loading
"Perhaps the right person for the job of Speaker of the House isn't someone who has been selling stock of themselves to get it for more than a decade," Gaetz said on the chamber floor as he nominated Jordan.
"Perhaps Jim Jordan is the right person to be Speaker of the House because he is under no obligation to the lobbyists and special interests that have corrupted this place and this nation under Republican and Democrat leadership."
McCarthy had known for days that he faced an uphill battle against a "Never Kevin" faction led by Biggs.
Also opposing him were far-right colleagues such as Colorado gun rights activist Lauren Boebert, Arizona's Paul Gosar, who is often considered one of the most conservative members of Congress, and Scott Perry, the chairman of the ultra-conservative Freedom Caucus, who issued a statement Tuesday morning, in the It is claimed that he and a group of other Republicans "worked in good faith for months to change the status quo" but that McCarthy "walked away or resisted" them.
Needless to say, McCarthy was furious.
"We may have a fight on the ground, but the fight is for the conference and for the country," he said before voting began after a lively private meeting with Republicans. "I'm not going away."
The voting continues. It's probably going to be a long night.
Get a note directly from our foreign country correspondents about what makes headlines around the world. Sign up for the weekly What in the World newsletter here.
https://www.smh.com.au/world/north-america/kevin-mccarthy-falls-short-in-first-vote-for-speaker-of-the-house-20230104-p5ca7n.html?ref=rss&utm_medium=rss&utm_source=rss_world Kevin McCarthy loses consecutive polls