Karmichael Hunt targets NRL coaching, with Bennett as a template
Karmichael Hunt wants to be an NRL coach and says his former coach Wayne Bennett is the template for the kind of mentor he wants to be.
The dual international won the 2006 NRL title under Bennett with the Brisbane Broncos and now coaches Souths-Logan in the Hostplus (Queensland) Cup competition.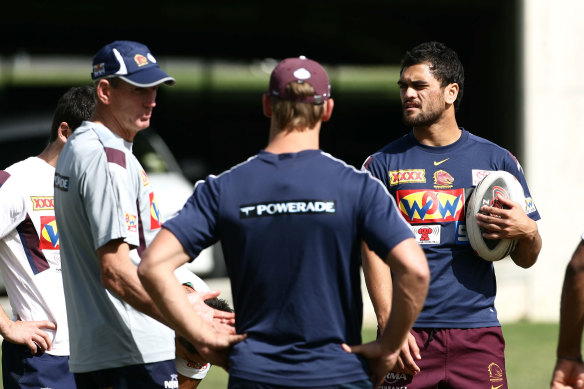 Having retired after a distinguished playing career in three codes representing Australia in league and rugby union, Hunt has now turned his attention to rising to the top as a coach.
"I've always had goals and I think to reach that level as an NRL coach would just be an amazing achievement," said Hunt.
"(Bennett) is the template. After playing under many coaches, you can complicate things too much. What Wayne is really good at is simplifying things.
"He realizes he's coaching a young man, a young man who has life experience, is quite talented and wants to get places… and needs a little guidance.
"It's really like any parent. He needs to be strict and forgiving at times. He must be loving all the time. Wayne does it his own way, so that's the template for me."
Hunt was speaking at the announcement of a partnership between Logan City Council and the Queensland Rugby League which will result in his Souths Logan Magpies playing home games at Logan Metro Sports Park as well as their spiritual home of Davies Park in the West End.
https://www.smh.com.au/sport/nrl/karmichael-hunt-targets-nrl-coaching-with-bennett-as-his-template-20230317-p5cszu.html?ref=rss&utm_medium=rss&utm_source=rss_sport Karmichael Hunt targets NRL coaching, with Bennett as a template