Kairos by Meryl Tankard and Elena Kats-Chernin at Carriageworks
"I want the audience to be moved – too feel some. Life has become so sanitized," says legendary choreographer Meryl Tankard of her latest work, an ambitious creation called Kairos.
Designed during COVID-19 lockdowns, Kairos will premiere on Thursday as part of the Sydney Festival.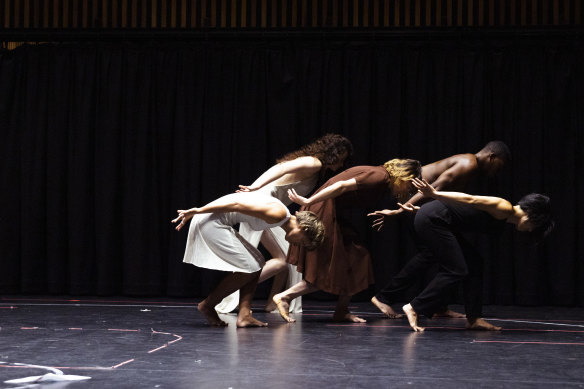 Kairos began as a series of workshops two years ago in Bundanon, Arthur Boyd's former home on the NSW south coast, which has an extensive collection of Australian art.
"I found these huge portraits that Sidney Nolan airbrushed to be quite unusual, unlike anything I'd seen before," says Tankard. "I gave these portraits to the dancers and said could you make a dance out of this and they all started to get very inspired."
From those simple beginnings grew a 60-minute collaborative effort that explores "the dark and the challenging; the ugly and the beautiful; the humorous and the cheerful" and depicts humans and their role in an increasingly fragmented natural world.
Loading
Along with visual artist Régis Lansac, Tankard was joined on the project by longtime collaborator, composer Elena Kats-Chernin. Most notably, the couple collaborated on the ballet Wild Swans in 2003.
"It's wonderful to be with her again," says Tankard. "It's pretty rare to have such a great connection with another artist where you just know what the other one wants."
Kairos is a Greek word that can be translated as "the right time" or "the most opportune moment". According to Tankard, it perfectly describes the stop-start nature of work during COVID.
https://www.smh.com.au/culture/dance/the-passionate-work-that-challenges-you-to-feel-something-20230117-p5cd7k.html?ref=rss&utm_medium=rss&utm_source=rss_culture Kairos by Meryl Tankard and Elena Kats-Chernin at Carriageworks