Justine Clarke on the "test of endurance" of this misogynistic speech
Justine Clarke has a great party trick. She can recite Julia Gillard's famous 2012 misogyny speech word for word.
From "I will not be lectured by this man about sexism and misogyny" to "The leader of the opposition should give serious thought to the role of women in public life and in Australian society, because we are entitled to a higher standard than that." A full 15 minutes of controlled anger, outrage and crushing knockdown.
"It's an endurance test," says Clarke. "Just being able to sit in an argument for so long. I don't know where she had time to swallow."
Clarke listened to the speech every day as she prepares to star Julia for the Sydney Theater Company. She even had to change the way she breathes to deliver them, mimicking the way politicians structure their sentences.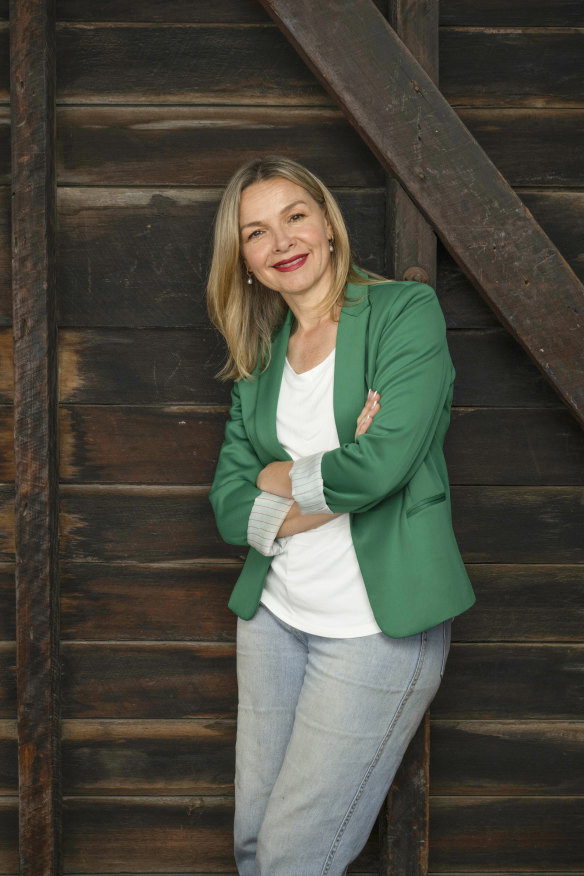 "You breathe in the middle of a thought so you can start the next thought without anyone interfering," she says. "It was really interesting to see how [Gillard] forestalls a reaction by breathing beforehand so she can get through to her next thought because she knows what will happen when she speaks.
"And just the stamina and the strength of it. The skill and the fact that it was off the cuff. I mean she only did it once and I will do it more times. Right now I'm just doing it completely like a song, learning it like a song, it's been so much fun and wonderful."
Written by Joanna Murray-Smith and directed by Sarah Goodes, the play is not a direct biography of Gillard. Clarke doesn't wear a red wig, but she does knit. it's no Wharf revue or At home with Juliabut it's also nothing like STC's recent one-woman show RBG: One out of many. It's a picture of the former Prime Minister's life before that day, October 9, 2012.
I would probably scream and cry and storm out of the room. But it was a 15-minute argument – it's virtuosic.

Justin Clarke
"I start in the moments before the speech," says Murray-Smith. "She's about to start feeling this feeling of absolute anger and righteousness. And she sort of goes back in time and tells us the story that brings her to this moment.
"So it's not just a streamlined portrait of a politician, but rather a woman coming to terms with what it means to be idealistic and ambitious. Because idealism must be compromised. That's how politics works. You want to stay in power, you make concessions to your own beliefs. And how do you do it?"
For a quick refresher, Gillard gave the speech after then-Opposition leader Tony Abbott said her Labor government "should have died of shame already" after he urged them to sack then-Speaker Peter Slipper over sexist text messages. The year before, Abbott had stood in front of signs that read "Ditch the Witch" and "Juliar Bob Browns." [sic] Female dog".
It was the latest in a series of sexist insults and double standards Gillard had to endure — from fellow politicians, the media and the public. From the moment she became prime minister in 2010, her body and hair have been commented on. Her voice was mocked, and one particular outfit was described as "a cheap motel comforter."
So as Gillard sat through Abbott's game in Parliament that day, writing notes, not only was she angry, she was ready to defend herself in a speech that has only grown in importance in the decade since she addressed it.
Initially rejected by much of the media in Australia, the speech went viral.
The Macquarie Dictionary decided to broaden its definition of "misogyny" — from the old-fashioned "hatred of women" — to something closer to sexism "with a stronger edge." While Guardian Australian readers voted it the "most memorable moment" in Australian television history. Even US President Barack Obama's staffers have admitted to seeing it when they were "really upset with Abbott." You can even buy it printed on a tea towel.
Clarke sits with Goodes during a break in rehearsals in Walsh Bay. Clarke carries the burden of the show – although she is joined on stage by a mute witness, played by Jessica Bentley, who represents the younger generation. It's a lot, especially considering this is Clarke's second straight one-woman show girls boys at the Sydney Festival, for which she received rave reviews.
Goodes jokes that Clarke, being an athlete and her trainer, runs up to her, splashes her with a water bottle and yells, "Come on Juzzy, you can do this! Just go out, it's not difficult."
Both women remain impressed by the power of Gillard's speech, not only because of its content but also because of the theatrical way in which it was delivered. It's a one-woman show in itself, as it vacillates between fury, high drama and, yes, comedy.
"She was at the peak of her parliamentary powers and her oratory skills were trained like a muscle throughout her life," says Clarke. "To hear someone flow with such an extraordinary argument – and the poetry of it, the rhythm, the repetition – it was impressive.
"If it were me [delivering the speech], I would probably scream and cry and storm out of the room. But it was a 15-minute argument – it's virtuoso."
Would Goodes have directing notes for Gillard?
"You wouldn't want to touch it," she says. "It's so alive. Because ultimately, directing is about working with the actor and the writer to make sure the performer has it in their atoms. So when they enter, they don't think, "Am I going to put that there?" You want them to just channel that emotional drive or argument, and that's where the magic lies.
"And when you really get it and understand it, then you're free as a bird to do it. what she was. It was such control, but it was free."
Murray-Smith, who I spoke to over Zoom earlier (in a very Gillard way, sitting in front of a bright red wall), had a similar reaction. "As a playwright. I just thought the drama and power of this idiom was so extraordinary.
"We hadn't really seen much of the impromptu Gillard. Everything had always been so measured and controlled. It was breathtaking."
Murray-Smith was hired by STC to write the show, a co-production with the Canberra Theater Centre, and before she began writing she contacted Gillard's office to let them know what she was doing. Murray-Smith had decided that if Gillard said no, she wouldn't continue because "I felt, just on a woman-to-woman level, that she'd been through enough without being scared anymore."
However, Gillard agreed. "She said, 'I'm not going to support it. But I'm okay with you writing it,'" recalls Murray-Smith. "Well, I didn't want her to support it. Because I didn't want to feel obliged to her. I wasn't sure how I would feel about her. Because there were certainly areas where I was disappointed in their leadership. So I was by no means uncritical.
"But when she said she didn't mind, I was like, 'Okay, let's get on with it.' It's an incredibly bold idea to get into the mind of someone who is alive and reasonably well known. But I couldn't resist."
Murray-Smith then interviewed Gillard for the play and they clicked. "I assumed that someone treated so badly would be right to be defensive and cautious. I couldn't find them remotely defensive or cautious. She was open, generous, helpful and a truly delightful conversationalist. I just wanted to have a coffee with her and talk about shoes."
The resulting piece, says Murray-Smith, is "absolutely my version. There are a few quotes that come directly from her, but not very many. And there are some quotes thrown at her. And the chronology is correct and many of the detailed factual details are correct, but all of their musings in the play are entirely hypothetical.
"But I hope it's convincing. 'Cause the thing is, she'll never let us in. That's just not who she is."
For Clarke, the hardest part was the rehearsal room. For what is essentially a one-woman show, it lacks the crucial piece of the puzzle: the audience.
Loading
"They're part of the show," Clarke says. "So the weird thing is being in that rehearsal room without her. It's pretty lonely and scary."
Is she worried that Gillard might come to see it (for the record, Gillard didn't say if she was coming)?
"Once you're in, everyone has decided to come," she says. "So I don't care who I see. It's even worse if you don't address the audience directly because you're drawing people's attention and you really shouldn't. You look over and there's George Miller or something. But when you just boldly address the audience, it's really quite liberating."
However, the last word belongs to Gillard.
"Your final incredible statement [in the speech], is what stayed with me," says Clarke. "She just comes back to women – 'You should seriously think about the role of women in public life and in Australian society.'
"She says we, it's about women. That last moment is just the kicker. And it was the kicker, when you listen to it you just go, 'Oh, wow. Yes, we actually did. We seriously thought about it.'"
Julia takes place from 31 March to 13 May at the Sydney Opera House's Drama Theatre.
A cultural guide to going out and making love in the city. Sign up for our Culture Fix newsletter here.
https://www.smh.com.au/culture/theatre/being-julia-gillard-justine-clarke-on-the-endurance-test-of-that-misogyny-speech-20230317-p5ct29.html?ref=rss&utm_medium=rss&utm_source=rss_culture Justine Clarke on the "test of endurance" of this misogynistic speech