Josh Frydenberg supports Roshena Campbell
Former Treasurer Josh Frydenberg is joining attorney Roshena Campbell to replace Alan Tudge at Aston's East Suburbs office.
Frydenberg was rumored to be interested in Tudge's seat and had a strong claim to catching him, but he has thrown his weight behind Campbell, a Melbourne councilor who failed in a previous pre-election campaign but is respected by moderates and conservatives and viewed is authenticated just as well.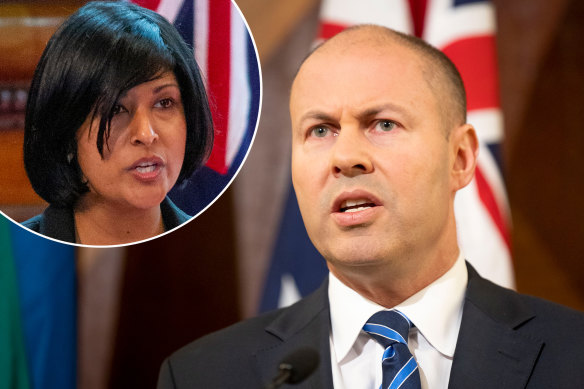 Two senior Liberal sources, who were not authorized to speak publicly because Campbell had not yet submitted her nomination, said the 38-year-old would nominate before Thursday's deadline, with the likely support of two other Victorian Liberals, Senator James Paterson and First Appointment MP Keith Wolahan.
Frydenberg – who is weighing a reprise in Kooyong, the seat he lost to independent Monique Ryan – will give Campbell a character reference, sources familiar with her offer said, providing influential endorsement for the hotly contested shortlist.
Tudge said last week he left politics because of the personal strain on his family sparked by a series of political scandals. He vacates the Liberal-held seat outside the Melbourne suburbs by a margin of just 2.8 percent after a massive 11.6 percent drop in primary votes in the last election.
Loading
Labor plans to campaign for the by-election and increase their majority in the House of Commons to two seats. Party strategists believe opposition leader Peter Dutton is an unpopular figure in Victoria because previous inflammatory comments about African street crime have scared Melbourne residents to go out to dinner and criticism of the Chinese Communist Party, which some say ethnically Chinese has alienated Australian voters became. Almost 15 percent of Aston voters have Chinese roots.
Longtime Liberal Emanuele Cicchiello and former State MP is expected to run Catherine Burnett-Wake also raised her hand for Aston. Health leader Amy Bach was suggested as a candidate. dr Mary Wang, who is of mainland Chinese descent, is also encouraged to stand up, as is Nicole Ta-Ei Werner, who recently ran for the Liberal Party in the Box Hill state seat and is ethnic Chinese.
Outspoken former Liberal Prime Minister Jeff Kennett supports Ranjana Srivastava, an oncologist. Guardian Columnist and Fulbright Fellow. "I was very disappointed that the party chose traditional white men when you have a woman of international standing who exudes all the principles of hard work, family and the Liberal Party who would bring exceptional experience to Parliament." he said.
https://www.smh.com.au/politics/federal/frydenberg-chooses-candidate-to-back-in-aston-byelection-20230214-p5ckb0.html?ref=rss&utm_medium=rss&utm_source=rss_politics_federal Josh Frydenberg supports Roshena Campbell