John Olsen, Acclaimed Artist and Archibald Winner, Dead at 95″
John Olsen, the celebrated Australian painter whose distinctive and innovative style captured the grandeur and poetic beauty of the Australian landscape, has died. He was 95.
Olsen died on Tuesday evening surrounded by his loved ones and family, including daughter Louise and his son and gallery owner Tim Olsen.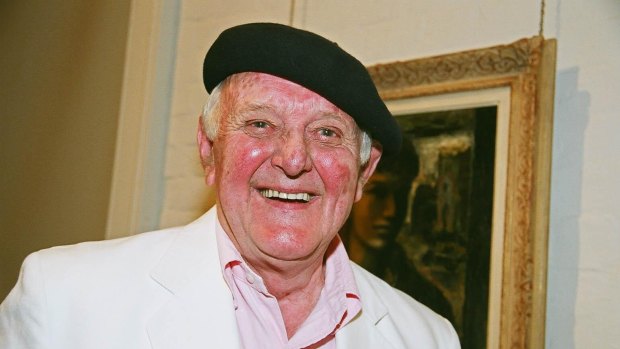 "Aside from our First Nation artists, he changed the perspective and the way Australians looked at our great landscape," Tim said Tuesday.
Born in Newcastle in 1928, John Olsen worked as a freelance cartoonist before studying art at the Julian Ashton Art School and then at East Sydney Technical College with John Passmore, where he quickly made a name for himself. Like many artists of the time, he moved to Europe and lived in Spain for a time.
He returned to Australia inspired to paint the nature and landscapes of his own country and created the Journey into the You Beaut Country series which would cement his place among Australia's artistic visionaries.
In 1971 Olsen was commissioned to paint the mural, Salute to Five Bells, for the Sydney Opera House, inspired by the poem by Kenneth Slessor, which still hangs in the north foyer. In the same decade, Olsen made his first trip to South Australia's Lake Eyre during the floods, his painterly lines and soft, sweeping brushstrokes capturing the vastness of that landscape from above.
Olsen was one of the few artists ever to win the Archibald, Wynne and Sulman awards during his lifetime. He won the Archibald Prize in 2005 with a self-portrait, janus face, the Wynne Prize in 1969 and 1985 and the Sulman Prize in 1989.
A tribute to his career spanning more than six decades will light up the Opera House's sails for next month's Vivid Festival, showcasing his enduring interest and fascination with the Australian landscape. "I'm a happy boy," he had said of the Vivid projection.