Jodi Phillis from The Clouds finds a silver lining with her new album
The child in Jodi Phillis has been an open secret ever since her girlfriend dreams of Hieronymus Bosch's painting informed the Clouds' first hit. Jeromein 1991. With co-writer Trish Young sharing vocals, they were an acoustic event befitting the grunge revolution, but with more harmonic and lyrical intrigue than most.
She remembers the band with great affection – they reform in December for the 30th anniversary of their existence penny century album – but "it was always a struggle to sing all this loud, amazing, complex music. A big part of me wanted to bring it all in and just sing folk songs."
It was more the maddening tires of the industry that forced the Clouds to break up in 1997. Phillis grew up in showbiz, first in Hollywood where Dad was a CBS cameraman on variety shows Dean Martin, Judy Garland and Andy Griffith, then back in Sydney directing the legendary soap opera number 96. But nothing — not even Frank Thring putting on Mum's bathrobe after throwing up on the couch — could prepare her for the ugliness of the grunge gold rush years.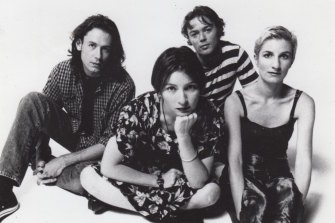 "If people give you a bunch of money and you sign a contract and you lose your power, that's really not good," she muses. "So I'll never do that again." The birth of daughter Ivy in 1998 – and a second, Harmony, in 2003 – sealed her independent home recording streak with albums like I live in dreams and For lovers, artists and dreamers.
Sonumvitae took her childhood dream obsession to the extreme in six outlandish tracks in 2003: Conception, incubation, childbirth, infancy, childhood and youth. The first is sung from the point of view of a cameraman who falls in love with a girl with liquid brown eyes.
"They were a typical Jewish-American family living in the Valley of Los Angeles," she says of Juni and her sisters Denise and Arlene. "They've been performing professionally since Mum was five or six years old…flying around the world supporting Sammy Davis Jr. and Tommy Steele…Their songs are just beautiful. I'll send you some links if you want."
The Starr Sisters' songs are beautiful: three-part harmony reverie steeped in classic late '50s/early '60s reverberations and innocence. Spectacular jewels with titles like Dancing in the moonlight and When my sugar walks down the street carry the author and production credits of long-gone LA greats like Al Hazan and Jack Nitzsche.
"Once she married Dad and had me, she just became a housewife and didn't really sing anymore," says Jodi. "She never said, 'Oh, I miss singing' or 'I'll sing again one day,' it was just over. It's like she turned off the switch. That was strange. But that was the 1950s. That's what women did."
Loading
Obviously not anymore. Recent years have brought Phillis back to clubs and big stages (with the Clouds) with Mia Dyson, Liz Stringer and Jen Cloher opening for Cyndi Lauper and Blondie. she tours We must be free with a new quartet, she describes it as "alt-indie-alternative-country-pop-folk-psychedelic" before finally settling on "I dunno…dreamy and melancholic."
As she writes on her Patreon page, "I'm in my happy place now, where as a kid I always dreamed of working on art and music every day. It sure is a wild ride."
Jodi Phillis will perform at Melbourne's Brunswick Ballroom on August 18th, Archies Creek Hotel on August 19th and Sydney's Lazy Bones Lounge on August 11th. The Clouds will play at the Croxton Bandroom in Melbourne on December 8th and 9th and at the Factory Theater in Sydney on December 13th.
A cultural guide to going out and making love in the city. Sign up for our Culture Fix newsletter here.
https://www.smh.com.au/culture/music/i-ll-never-do-that-again-the-clouds-jodi-phillis-finds-a-silver-lining-20220708-p5b09t.html?ref=rss&utm_medium=rss&utm_source=rss_culture Jodi Phillis from The Clouds finds a silver lining with her new album