Japan's outspoken diplomat infuriates China
When Shingo Yamagami was appointed Japan's ambassador to Australia in December 2020, he rushed to one of Tokyo's largest bookstores. Eager to study in his new home, Yamagami searched the shelves but could only find three books about Australia written in Japanese. "That says a lot," he argues, "about how superficial our knowledge of Australia is."
In a remarkable turn from the war of the 1940s, Japan and Australia are now inseparable security and economic partners. Yamagami rattles off the stats: 90 percent of Japan's imported sugar, 70 percent of its imported coal, and 40 percent of its imported beef come from Australia. "Our relationship was crucial, but I think the tendency was to take it for granted," he says. "Not many people are aware of the depth of our interdependence."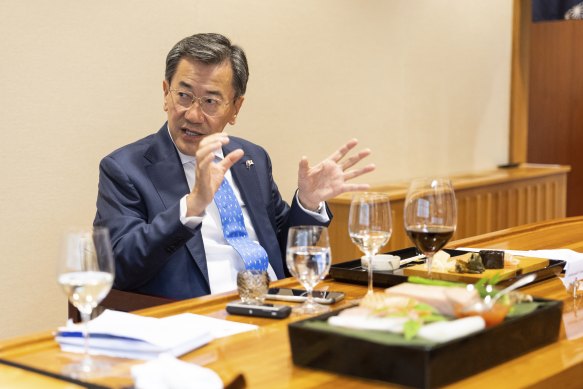 Since arriving in Canberra, Yamagami has been on a mission to spread the gospel of the importance of Japan-Australia relations. In two years he has toured every state and territory at least twice, venturing as far as the Torres Strait Islands and the Moranbah coal mine in central Queensland. Wherever he goes, he speaks to a local newspaper or TV station, using his easy-going personality and excellent command of English to represent his country's interests.
"An ambassador is a representative of your own country," he says. "My job is to sell Australia everything that Japan has to offer."
Fortunately, he preaches to a friendly crowd. A Lowy Institute poll released last year found that 43 percent of Australians consider Japan our closest friend in Asia, up from 25 percent six years ago and well ahead of any other nation.
Yamagami, 61, is a successful practitioner of soft-power diplomacy and regularly invites politicians, journalists and academics to dine with him at his residence in Yarralumla. One of the greatest perks of being a Japanese diplomat is the opportunity to take a hand-picked chef back to your host country. Yamagami chose Ogata Sadayuki, who previously worked in a five-star hotel restaurant in Tokyo and now serves up some of the most refined Japanese dishes in Australia. The promise of great food and juicy geopolitical gossip has made a Yamagami dinner invitation a prized prize in Canberra's political class.
When accommodating large groups, Yamagami entertains in his formal dining room. For our lunchtime interview, he takes me to a separate sushi and tempura bar nicknamed Little Tokyo. "When you are in Japan, you usually have to go to two different places to enjoy tempura and sashimi. You have both here," he says proudly. Chef Ogata has prepared a bespoke four course meal accompanied by sake and Australian and Japanese wines.
I was keen to interview Yamagami because he has a reputation for being the most outspoken and energetic ambassador working in Canberra today. It's a nickname he's embracing. "I'm not an ordinary diplomat," he says. "I don't like wishy-washy talk, I'm more of a direct guy."
His outspokenness got him public this week with Chinese Ambassador Xiao Qian, who used a press conference at the Chinese embassy to accuse Yamagami of not doing its job properly and working to prevent Australia from breaking ties with China to deepen. He has previously raised eyebrows by vocally opposing the Queensland government's plans to increase coal levies, including in speaking at mining industry forums.
His sober style draws both praise and criticism.
"Ambassador Yamagami is one of the most prominent and effective foreign envoys this city has seen in a long time," said Rory Medcalf, director of the National Security College at the Australian National University. "He demonstrates diplomacy as a true calling… and you get a strong sense that he's shaping ambitious policies, not just providing talking points from Tokyo."
Allan Behm, director of the Australia Institute's international and security affairs program, is less flattering. "He doesn't seem at all barred from being involved in how Australia does business, including its relationships with other countries," says Behm. "I don't think that's an ambassador's job."
Behm says he'd like to see Yamagami "take a leaf out of Caroline Kennedy's book," referring to the US ambassador's reluctance since arriving in Australia last July.
Over an appetizer of shrimp and tomato foam cocktail — a salty, gelatinous, delicious concoction — the son of two high school math teachers explains how he scaled the heights of Japanese diplomacy.
A history lover, Yamagami defied his parents' expectations by studying law and joining the foreign service. It was four decades after the end of World War II when Japan fought alongside Nazi Germany and the nation was dominated by pacifist thinking. Yamagami describes it as a time of intellectual timidity and risk aversion.
"I thought I could play a small role in changing that mindset," he says. "I wanted Japanese diplomacy to be more open, robust and active. I also thought it wouldn't be fun to stay in Japan all the time."
Meanwhile the hiss of cooking oil is as loud as our conversation; Chef Ogata sautés pieces of asparagus, fish and shrimp in tempura, which he serves along with diced radish and matcha salt.
Yamagami – who has previously served in diplomatic roles in Washington DC, Hong Kong, Geneva and London – says what makes him unique is his work outside of the Foreign Service. He spent two years as deputy chief of police, where he was responsible, among other things, for the hunt for suspected spies. He then headed Japan's Intelligence and Analysis Bureau, the equivalent of the CIA. The position gave him access to top-secret information that Japan has collected about other countries.
"I was once a spy master and once a spy catcher," he says. He brings the mentality of an intelligence analyst to his ambassadorial work. "Unless I go beyond the protocol of a formal visit and start digging deeper, I cannot step into the world of a truly experienced Master," he wrote in his weekly newsletter last July. News under the Southern Cross. "I need to raise the level of information gathering and sharing."
Yamagami uses his whimsical dispatches, published in Japanese and English, to chronicle his Australian adventures, and last year devoted two issues to the subject of magpies (a "bird of terror," in his words). One of Yamagami's regular bike rides around Lake Burley Griffin took an eerie turn when a magpie fell on his wife. "It was really painful and she was so scared," he says.
He later posted a photo of his solution to such attacks online: a helmet with chopsticks sticking out. "Dear magpies, how about we call a truce this nosedive season?" he wrote on Twitter. "If the urge to reach for my helmet is too tempting, grab a complimentary chopstick. They smell of sushi and wagyu beef."
Yamagami has often been described in bird terms itself, thanks to its reputation as a Chinese falcon. He balks at the term and insists, "I'm more of a China realist."
However, he does not hide his criticism of the rising superpower, saying: "Our government is eager to work towards a stable and constructive relationship with China, but it takes two to tango … We would like to see the day." , where China will become a responsible, law-abiding member of the international community."
He says China's assertiveness and North Korea's nuclear tests have led to a "fundamental shift in the mindset of ordinary Japanese" in recent years. Pacificism is now out of fashion in favor of large increases in defense spending.
"If you look at the security challenges in Northeast Asia, you can call Japan a frontline state," he says. "We don't have the luxury of distance like Australia. We live with the tyranny close by."
As we chat, Chef Ogata continues to serve exquisite dishes. There are eight varieties of sashimi – from calamari to eel to ruby ​​fish – all sourced from Sydney to ensure ultimate freshness and sliced ​​in front of us.
Yamagami says he expects military cooperation between Japan and Australia to reach new heights this year if Japan's parliament approves an agreement allowing troops to be stationed in each other's countries and conducting joint training exercises.
He also envisions Japan becoming a quasi-member of the AUKUS pact between Australia, the US and the UK – and working with the existing members on artificial intelligence and hypersonic weapons technology (but not on nuclear-powered submarines). "Five, ten years ago, it was unthinkable that defense cooperation between Australia and Japan could go that far," he says.
Loading
After dessert – a tart, refreshing yoghurt and an ice cream with layers of passion fruit and mango – I am totally full and could happily take an afternoon nap. Meanwhile, Yamagami's diplomatic charm offensive is just beginning: Tonight he throws the first pitch at a baseball game in Canberra celebrating Japan.
He knows we live in volatile times but is excited about the possibilities for Australia-Japan relations. "The sky's the limit and there's a lot we can do together."
Break through the noise of federal politics with news, perspective and expert analysis from Jacqueline Maley. Subscribers can sign up for our weekly Inside Politics newsletter here.
https://www.smh.com.au/politics/federal/no-ordinary-diplomat-the-outspoken-ambassador-infuriating-china-20230111-p5cbsv.html?ref=rss&utm_medium=rss&utm_source=rss_politics_federal Japan's outspoken diplomat infuriates China