Jair Bolsonaro applies for a visa for a long stay in the USA, Chancellor Olaf Scholz provides funds to save the Amazon
He sees no reason for Bolsonaro to be extradited or deported and it is advisable that the former president does not leave the country while he is waiting for a visa. "He must be careful not to do anything that could be construed as paid work in the US," Alexandre added.
Loading
According to another person familiar with the matter, the US has informed Brazilian officials of Bolsonaro's request.
The city estimates that at least 30,000 Brazilians have settled in Orlando, and hundreds of thousands come as tourists each year. Brazilian voters in Florida voted 4-1 for Bolsonaro, according to official Brazilian election results, in stark contrast to his narrow loss to Lula at home.
Over the weekend, his eldest son Flavio Bolsonaro told reporters his father had no deadline for returning to Brazil and dismissed the idea of ​​US extradition.
"The far left in the US plays the role of the far left here," he said. "I believe that the US is a serious country that will not do anything illegal."
Flavio Bolsonaro and his father's lawyer in Brazil did not immediately respond to requests for comment.
Bolsonaro's whereabouts are a problem for both the US and the new Brazilian government.
The Supreme Court justice leading the case could order his return, but Lula's government would be wary of turning Bolsonaro into a political martyr after his narrow defeat in the October runoff.
Bolsonaro's presence in the US is also linked to Lula's visit to the White House, which is expected to take place in early February. Biden has been quick to rebuild ties with Brazil after the left-wing president took office, seeking compromises on issues ranging from the environment to green energy.
Two of Lula's close advisers, who asked not to be known during private deliberations, said the president didn't want to waste energy thinking about Bolsonaro. One of them acknowledged that Lula's advisers were at odds over how best to resolve the issue.
The State Department declined to comment Monday. Earlier in January, State Department spokesman Ned Price said US government officials who are no longer doing "official business" have 30 days to request a change in their immigration status.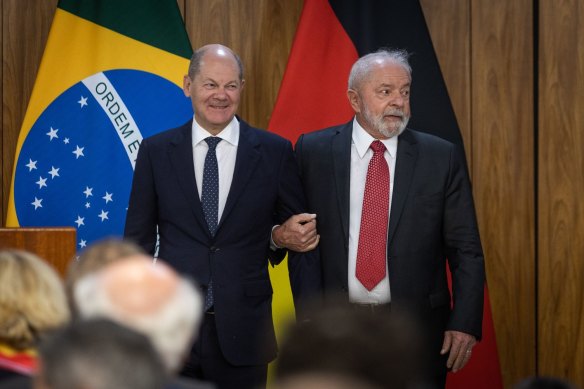 Meanwhile, Germany has pledged 200 million euros ($308 million) to help Brazil defend the Amazon rainforest, a global ecosystem devastated during the Bolsonaro years.
The amount of loans and donations was announced in the capital, Brasilia, where Chancellor Olaf Scholz became the first Western head of state to visit since Lula took office.
The visit is a sign of German support for Brazilian democracy after the January 8 riots, Scholz said at a press conference.
German Development Minister Svenja Schulze said her government has acknowledged that Brazil's new leftist government is working hard in its first 100 days to show results in reducing deforestation.
Loading
The sum includes a €35 million donation to the Amazon Fund to strengthen a multi-billion dollar initiative funded by Norway and Germany to protect South America's rainforest and fight deforestation.
The Amazon Fund was reactivated by Brazilian Environment Minister Marina Silva on the day she took office. It had been frozen since 2019 when Bolsonaro abolished his board of directors and action plans. As President Bolsonaro said, Brazilians have the right to develop the natural resources in the Amazon.
https://www.smh.com.au/world/south-america/bolsonaro-applies-for-visa-to-stay-longer-in-the-us-20230131-p5cgsd.html?ref=rss&utm_medium=rss&utm_source=rss_world Jair Bolsonaro applies for a visa for a long stay in the USA, Chancellor Olaf Scholz provides funds to save the Amazon