It's crunch time for one of the world's largest metro rail projects
Turning a corner after walking through a tunnel, a massive cavern deep underground opens up before us. Like entering a new world, the 170-metre-long hall is jaw-dropping, conjuring sci-fi thoughts. More than 30 metres beneath North Sydney, Australia's largest underground railway cavern will buzz with thousands of commuters every hour when the second stage of Sydney's massive metro rail network opens next year.
As six new underground stations take shape for the City and Southwest metro line, the building sites above them look like any office towers rising skyward floor by floor. But far beneath the streets of Sydney, the scale of what is happening on the north shore, CBD and south-west becomes clear.

Costing a staggering $63 billion, Sydney's emerging metro network is one of the largest suburban rail projects in the world, rivalling a €35 billion ($55 billion) expansion of Paris' rapid transit system. Combined with three other new lines, the City and Southwest metro link from Chatswood to Bankstown via the CBD will reshape the way people traverse Sydney.
Driverless trains will run every four minutes on twin 15.5-kilometre rail tunnels which snake their way beneath Sydney Harbour and the CBD. By 2030, Sydney will have 113 kilometres of new metro rail and 46 stations, financed by the sale of the state's "poles and wires" electricity assets late last decade.
After a year when Sydney's existing double-decker rail network was crippled by an industrial dispute between the state government and rail unions, it is crunch time for the $18.5 billion City and Southwest project as the opening date for the main section from Chatswood to Sydenham next year fast approaches.
Buffeted by the pandemic and the industrial dispute, the City and Southwest project is $6 billion over budget, while a section of the line from Sydenham to Bankstown will open in 2025 – at least a year late.
By the middle of this year, the project will face a major test when the first driverless train will be guided through rail tunnels under the harbour and CBD. Target dates for the opening to passengers of the line have swung between the first quarter of 2024 and late next year. Much will hinge on the testing and whether contractors can make up for lost time.
City and Southwest project director Hugh Lawson says it is a "complex mega project", underscored by the fact that building just one of the six new stations is an enormous task in itself.
"We're trying to do that across a whole line and bring it all together in a really co-ordinated way," he says. "Then put on top of that COVID, construction pauses, industrial action, weather and everything else and our challenge is to constantly be adapting … and making sure we keep the project moving."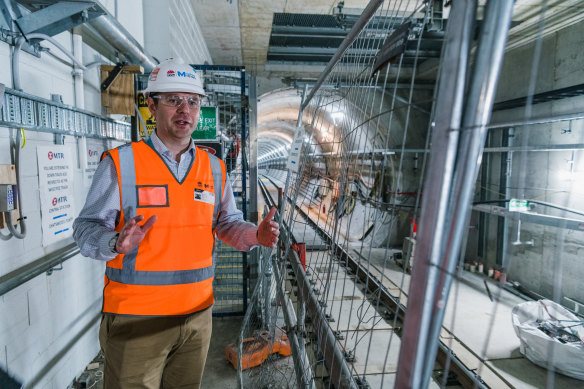 The next critical phase involves completing rail systems to enable power to be switched on, clearing the way for testing of the entire train line. All of that is running in parallel with work to finish fitting out of stations. "It all has to come together at the end – ready for day one of opening," Lawson says. As well as six new stations, the project involves building new underground platforms or upgrading those at 12 existing stations.
Chiselled out of sandstone, it is the largest rail line to be constructed under central Sydney since the City Circle underground railway was completed in the 1950s. Built in stages over three decades, the City Circle was devised by chief engineer John Bradfield, modelled on New York's subway.
More than half a century later, the genesis for a fully automated metro rail line under the harbour and CBD lies in a 2012 blueprint for Sydney's railways, developed in the year after the Coalition swept to power in the state election. The report, Sydney's Rail Future, was a long-term plan to boost the rail network's capacity, making clear the need for a rail spine under the CBD to ease pressure on the City Circle. Despite the need for extra capacity, it was a challenging period to launch the blueprint because of deep public scepticism that a rail line under the central city would ever be built.
The state's then transport chief, Les Wielinga, was pivotal in getting it off the ground, realising years earlier the need for a second rail crossing of the harbour when he was head of the NSW roads authority. "I knew we couldn't solve all of Sydney's problems with just roads," he recalls.
However, Wielinga admits it was "a very close thing" that the City and Southwest project became a reality due to opposition within parts of the new Coalition government at the time, and after the Keneally Labor government abandoned plans in 2010 for a seven-kilometre underground rail line between Central Station and Rozelle in the inner west. "[The heads of Infrastructure NSW] Nick Greiner and Paul Broad were against it because they wanted to build large road projects. We had to fight Treasury, and we had to fight a number of government ministers who weren't keen to spend that much money on a public transport system," he says.
A decade on, the former top public servant is adamant that the City and Southwest rail line – when linked with the 23-kilometre Northwest Metro which opened in 2019 – will be the most transformative piece of transport infrastructure since the Harbour Bridge opened 90 years ago. "It will provide the backbone that Sydney has needed for a long time," he says. "It is going to advantage particularly south-western Sydney. The public transport system should help people from the south-west get to employment in the CBD."
Transport Minister David Elliott says the Northwest Metro, which connects Chatswood to Rouse Hill, has "completely recalibrated" Sydney's north-west, while the City and Southwest line "will do that on steroids". "You just have to look at the design of the stations but more importantly the ease of access. People love the metro because it is so easy, spacious and clean," he says.
However, some former top NSW railway executives have serious reservations that the benefits of the new metro line under the CBD will match its $18.5 billion price tag. The man who made trains run on time during the Sydney Olympics, Dick Day, believes the line should have been extended from Sydenham to Hurstville in Sydney's south – instead of to Bankstown – to feed larger numbers of commuters onto the high-capacity metro network.
"Metro lines are incredibly expensive to build. So, when you build one you really want to milk it for what it's worth," the former general manager of rail planning and timetable development says. "There just aren't that many people on the Bankstown line."
Day was one of four former NSW rail executives to warn in 2017 that the City and Southwest line would lead to "degradation of the robustness and reliability" of Sydney's existing heavy rail network. They feared that a "takeover" of the existing rail line between Sydenham and Bankstown for the metro trains would remove a relief valve for the network. "They've missed opportunities to provide better relief to the whole system," Day says.
Converting the century-old Bankstown line and stations to handle driverless trains has been one of the toughest parts of the City and Southwest project. The protracted industrial dispute between the government and rail unions last year compounded problems. As part of protected action, rail workers refused to turn off power, denying contractors access to rail tracks during scheduled weekends and school holidays when trains were not operating.
Another argument is that more bang for taxpayers' bucks could have come from investing the tens of billions for the metro lines into improving and extending the existing suburban rail network. And a fear is that Sydney creates a two-class rail system – a shiny new metro network and a suburban system creaking under the weight of ageing trains and infrastructure.
Sydney rail expert Mathew Hounsell, who is critical of the decision to convert the 13-kilometre stretch of the Bankstown line to carry driverless trains, agrees that more benefits could have been derived from extending the metro line to Sutherland or Hurstville. "The Bankstown line is not a high-demand corridor. If you had extended it to Sutherland or Hurstville you probably would have dragged in more people," he says. "That was a better option."
Despite his reservations, Hounsell believes the City and Southwest line will improve public transport access on a massive scale. "The Northwest Metro is good but once the line opens in the CBD people will feel the benefits of this high-frequency transport. It will provide public transport in a way that the city hasn't really experienced," he says.
Stitching the city together, the line will enable commuters to board a train at North Sydney and arrive at Barangaroo in three minutes, or Martin Place in five. It will result in a single journey from Sydney's outer north-west to the CBD, and onto Sydenham and Bankstown, removing the need to switch to double-decker Sydney Trains services at Chatswood. Travel-time savings by rail from Bankstown to Sydney's second-largest business precinct at Macquarie Park are estimated at up to 25 minutes.
Gabriel Metcalf, an American who led urban think tank Committee for Sydney until last month, says people who live along the railway corridor will have a level of mass transit they have never experienced before. "They can show up at metro station and just be confident that every few minutes a train is going to come along. It's a big upgrade to service quality," he says. "There are very few cities in the world that are building anything at this scale today."
Metcalf believes Sydney has grown to a size where cars can no longer be the primary mode of transport. "This is an evolution that every city faces when it's big enough. Sydney Metro is the kind of system that will allow Sydney to remain livable even as it grows," he says.
But he is concerned that wider benefits from the metro rail line will fail to be realised without designating areas near stations as growth areas, opening them up for higher density living. "If you were to fault Sydney for one thing, it's that the land use planning has been too disconnected from the network planning," he says. "You don't want to locate a station, spend all the billions of dollars, and then later ask the question, 'What should the land use be here?' That should all happen upfront."
Loading
Sydney Metro chief executive Peter Regan says the new stations will create different precincts, accommodating shops, bars and restaurants, offices and apartments. "We're not just building stations; we're creating new destinations. And some of those destinations are at a scale that people will travel just to go to that destination," he says. "You've seen in the last couple of years with the light rail it's really changed the way people move around. People are making these small trips on the tram up and down George Street."
While construction of the City and Southwest line is reaching a critical stage, the government has paused several mega transport projects – such as the Northern Beaches Link motorway – due to escalating costs. The release of confidential assessments by Sydney Metro last year have also revealed the extent to which the rail projects are fraught with high risks ranging from safety threats to further cost blowouts.
Grattan Institute transport and cities program director Marion Terrill expects the cost of mega rail projects to keep escalating due to competition for resources created by a construction boom on Australia's east coast. "There has been no slowing in Victoria or Queensland. People from the construction industry are talking a lot about cost escalation," she says.
The pandemic has also cast a long shadow over Sydney's metro lines, after proving to be the biggest disruptor to mass transit in decades. People are still working from home in droves, and travelling less to the CBD during peak periods. While conceding that the pandemic will curb the extent of patronage growth on the City and Southwest after opening, Regan maintains it will not alter long-run forecasts for the line.
"The changing trip patterns are real, but there are new trips that are replacing old trips," he says. "This [project] is a game changer in terms of different ways people will travel around. There's a great big surprise sitting under Sydney for people."
The Morning Edition newsletter is our guide to the day's most important and interesting stories, analysis and insights. Sign up here.
https://www.smh.com.au/national/nsw/beneath-sydney-one-of-the-world-s-largest-metro-rail-projects-faces-crunch-20221212-p5c5il.html?ref=rss&utm_medium=rss&utm_source=rss_national_nsw It's crunch time for one of the world's largest metro rail projects