It's about time this Australian artist got the attention he deserves
In this country, some of our greatest artists like Drysdale and Dobell faced a long struggle for institutional recognition, followed by a wave of success as everyone jumped on the bandwagon. Recently, there is a different pattern, with younger artists being singled out as fashionable stars, whose works are collected early by all museums. What often follows is oblivion just as swift, as last year's prodigies become next year's nobodies.
It is time for Australia's public museums to abandon these vices and pay attention to enduring artists like Idris Murphy (born 1949) who, without institutional encouragement, have gained a strong following among private collectors. Such was the case with Elisabeth Cummings – a much-admired painter who was ignored for decades before being given late recognition. I could name dozens more.
A partial response to this state of affairs has been the exhibitions that Terence Maloon and his colleagues have arranged at Canberra's Drill Hall Gallery over the last decade or two. Artists were chosen for the quality of their work and long-term success, not because they address current issues or exhibit at a cool dealer.
If the Drill Hall can host these groundbreaking career polls, one wonders why the larger galleries, with far greater resources, can't. The simple answer is that they are not interested. Museums' sudden, overwhelming obsession with identity politics means that aging white male artists like Murphy are unwanted personnot even entitled to the belated, lukewarm recognition bestowed on Cummings.
The overview of Murphy's work currently on display at SH Ervin Gallery premiered at Drill Hall last year and has also migrated to the bustling Orange Regional Gallery. It's a compelling performance by a hard working painter who has lived in Sydney for most of his life and has exhibitions every year or two. But if you look at Murphy's depiction in the Art Gallery of NSW, there is only one series of prints from 1988 based on Morris West's novel. The heretic. These were donated by fellow artist Kevin Connor. The National Gallery of Australia is similar, with prints but no paintings.
This is a worrying omission as Murphy is one of the country's most original landscape painters and landscape is one of only two areas where Australia may have made a unique contribution to world art. The other is indigenous art, which is finally making its mark on the international market.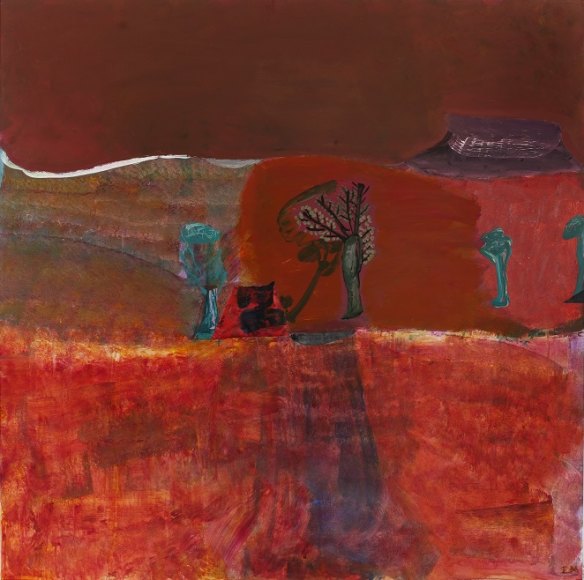 When the NGA screwed that up Australia exhibition at the Royal Academy in London in 2013, it was a missed opportunity to draw the world's attention to the strength of the local landscape. Though that was ostensibly the theme, the display was a bewildering show bag of everything and everyone that left audiences cold.
Today we repeat this neglect at home with the result that many excellent landscape painters do not get their due. With an artist like Murphy, part of the problem may be that his work doesn't deliver instant success. In fact, his sense of color is so unusual, his brushwork so clumsy, and his forms so simplistic, that some viewers will take one glance and walk away. But with works like this, which defy every cliché and convention of Australian landscapes, one has to look further. Spend time with this exhibition and its intricacies will become apparent. Look at Murphy's paintings over a period of years and they become irresistible.
https://www.smh.com.au/culture/art-and-design/it-s-time-this-australian-artist-receives-the-attention-he-deserves-20230306-p5cpt2.html?ref=rss&utm_medium=rss&utm_source=rss_culture It's about time this Australian artist got the attention he deserves