It's a pleasure to watch Rebecca Gibney in this upbeat oddball comedy
Among the vines ★★★½
Upbeat and economical appointments give one the sense that this airy range knows exactly what it is, where it's going and how to get there. Creator and co-writer Erin White opens her warm-hearted comedy-drama with an efficient introduction to the main characters. Daisy Munroe (Rebecca Gibney), a Sydney socialite, scurries around at a pangolin fundraiser, inadvertently dropping cash, only to find to her dismay that her credit card has been blocked.
Meanwhile, disgraced London lawyer Louis Oakley (Charles Edwards) sits dejected in a jail cell. A recording of his exploits during a drunken night on the town went viral, earning him the nickname "Piccadilly Willy," and his wife Simone (Sara Wiseman) and 11-year-old son Julian (Sam Gardner) are even less impressed with him now than usual.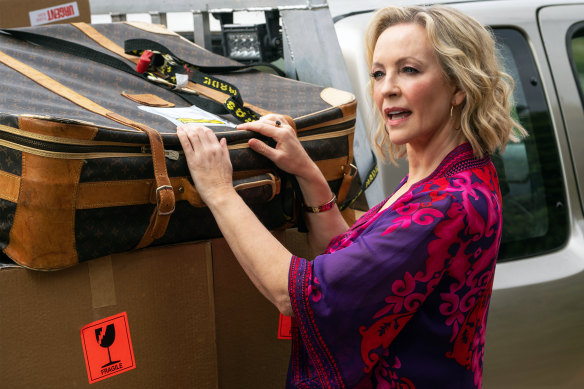 Daisy and Louis soon discover they have inherited a New Zealand winery when Daisy's stepfather, Louis' benefactor, Louis' uncle, dies. Everyone mistakenly believes that they have become the sole owner. Cut to New Zealand's South Island and the tourist brochure-worthy countryside of central Otago, as the couple arrive in the fictional town of Peak View and embark on an unlikely couples and fish-out-of-water romantic romcom escapade in which they bicker over ownership and control.
The formula is known, but the six-part first season of Among the vines – a second one is scheduled to appear on the Acorn streaming service on March 20 – combines the stock elements with a lot of charm, pep and competence. The romcom thread sees the unlikely antagonists gradually discovering each other's traits. Daisy is a sunny spirit used to the good life, but also a smart woman who can use her assets to her advantage. She's the seemingly shallow, fleeting blonde who's easily underestimated. In contrast, Louis is a grumpy, uptight Pom who tries to calm her down, struggling to keep a steady and what he sees pragmatic eye on the bottom line while finding himself increasingly disarmed by her. He is also a man who has hit rock bottom but has skills that come in handy in this situation.
City slickers become strangers in a strange land and must familiarize themselves with the nature and politics of Peak View, which, as the template demands, are blithely whimsical. Unwritten rules include always taking local hitchhikers with you – the obligation doesn't extend to tourists – and not allowing livestock in the library, although the latter is flexible depending on circumstances.
With the Oakley winery come employees Tippy (Trae Te Wiki), a cautious and wise young Maori woman, and Gus (Simon Mead), who is outspoken and often shirtless, along with a three-legged cat named Pussy Galore, who at first it's rare. The house Daisy and Louis have to share looks like it was loved but has become a bit shabby, its '80s dark wood decor suggesting an aversion to renovations.
The comfortable, if dated, accommodations contrasts starkly with the chic modernity of neighboring Shimmering Lake, with its neutral tones and spectacular water views. Its owners, Don (John Bach) and Marissa (Sarah Peirse), soon circle Oakley on purpose, offering to take the ailing business out of the hands of its new owners and portraying their offer as an act of goodwill. The local Lore has it that "no one says no to Marissa," and the ever-great Peirse seems to be having a good time as the steely, sharp-eyed matriarch.
https://www.smh.com.au/culture/tv-and-radio/rebecca-gibney-is-a-joy-to-watch-in-this-cheerful-odd-couple-romcom-20230310-p5cr7c.html?ref=rss&utm_medium=rss&utm_source=rss_culture It's a pleasure to watch Rebecca Gibney in this upbeat oddball comedy