'It's a cancer that could kill the sport': Snooker's war on the fix
Jason Ferguson, chairman of the World Professional Billiards and Snooker Association, has suspended ten Chinese players including 2021 British Championship winner Zhao Xintong and former Masters champion Yan Bingtao amid the ongoing investigation.
They collectively earned more than £500,000 last season and were due to play at the Masters this week, but of the other eight suspended players, three are under the age of 20 and six earned less than £35,000 in prize money last season.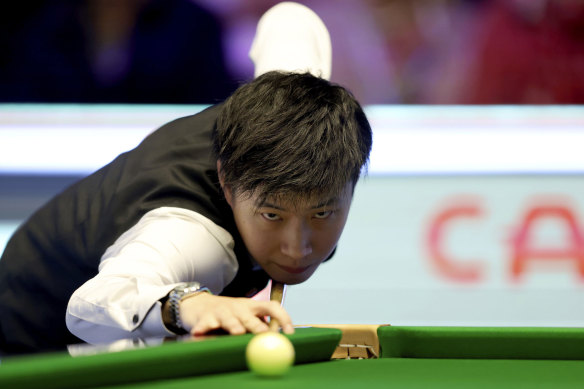 The oldest banned player is Liang Wenbo, 35, who was named by world No. 77 Chang Bingyu in a now-deleted post on Chinese microblogging site Weibo. Chang, who was also suspended, claimed he was called "in a threatening tone" by Liang on the morning of a game. In his own social media post, Liang denied ever being involved in match-fixing. Ferguson did not comment on the investigation, but spoke out against blanket disciplinary measures.
"Individual circumstances in everything would have to be taken into account," he said.
Clive Everton, a leading snooker journalist for more than 50 years, says some of the game's administrators made him feel "the enemy" when he tried to investigate match-fixing before 2010. "Before Jason Ferguson, the impulse from several administrators was to ignore it because it was bad for the game," Everton said. Barry Hearn set up the sport's integrity department after John Higgins was found guilty of "giving the impression he was breaking the rules of betting" in 2010, and for the likes of Everton, subsequent investigations show great progress.
Stephen Lee, Thanawat Thirapongpaiboon, Yu Delu, Cao Yupeng and David John have all been found guilty of various match-fixing charges over the past decade.
"Once you have doubts about the essential credibility of the sport, it's headed for the graveyard."

Sports corruption expert Declan Hill
According to Ferguson, the unit monitors betting markets worldwide "every day of the year" and can spot even the most subtle fluctuations triggered by even small bets.
There is also a confidential hotline, educational and welfare programs for players and cooperation with external experts such as Sportradar. Snooker's integrity unit is headed by Nigel Mawer, a former Scotland Yard detective who is leading this investigation.
"I am confident that we will clarify this and guarantee the public, our rights holders, that this sport is pure," Ferguson said.
According to Chris Eaton, who works for the International Center for Sport Security, match-fixing and betting fraud continue to increase in global sports.
"Globally roaming criminal 'organizations' are behind most of the fixes," he says.
Eaton describes these criminal groups as "loose alliances and networks, almost entrepreneurial in a sense" that "can be cruel and ruthless when deemed necessary".
He expresses concern about the effectiveness of betting surveillance companies, particularly in relation to illegal and unlicensed markets in Asia, and calls for government action. "A generation ago, international banking was riddled with black banking and anonymous safe havens," he says. "Although scandals persist today, banks cannot trade internationally without complying with international anti-corruption practices.
"Worldwide, sports betting is where banking was back then. Governments, especially the big three – the US, China and India – need to properly legalize and control sports betting."
Loading
The snooker crisis comes as the sport plans to restart major tournaments in China after a three-year Covid hiatus. "We're going to come back and it's going to be successful again," says Ferguson. "We have a strong sports authority in China. We will face this together and develop the sport together."
From world no the player mixed.
But after four years of studying and trying to infiltrate Asian gangs in football, Hill stresses the stakes.
"Corruption is the cancer of athletic performance," he said. "Once you have that doubt about the essential credibility of the sport, it's headed for the graveyard."
Telegraph, London
Sports news, scores and expert commentary. Sign up for our sports newsletter.
https://www.smh.com.au/sport/it-is-a-cancer-that-could-kill-the-sport-snooker-s-war-on-fixing-20230115-p5cclc.html?ref=rss&utm_medium=rss&utm_source=rss_sport 'It's a cancer that could kill the sport': Snooker's war on the fix