Items from the Leuralla Toy and Railway Museum go under the hammer
A world-famous collection from the golden age of toys, housed in a museum in the Blue Mountains, is set to be liquidated with an internationally acclaimed auction in the Hydro Majestic Hotel's grand ballroom over the weekend.
Think of a childhood toy and it is likely represented among items from the Leuralla Toy and Railway Museum, brought together by collectors, the Lawyer, the late Clive Evatt and his wife Elizabeth.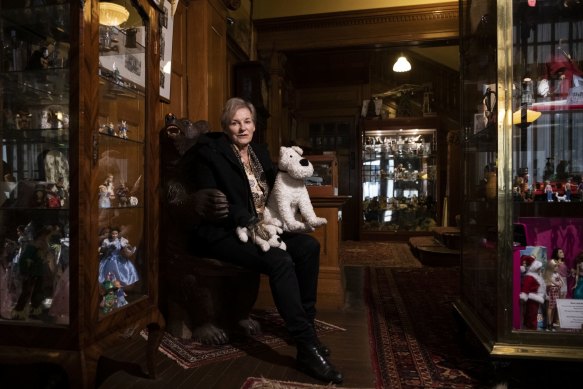 The couple worked tirelessly for over 35 years, scouring the globe for rare and collectible toy and railroad memorabilia to create what is considered the most important toy collection of the 20th century under one roof.
Picture Barbie in various disguises including Barbie Blonde Ponytail Graduation, complete with diploma in a good box (collectors like original box), estimate $300. There is a life-size limited edition Tintin (estimate $5,000), a Steiff teddy bear (sewing repair left paw, estimate $2,000), 1930s felt dolls, model locomotives (including the Flying Scotsman) and original illustrations by Enid Blytons Noddy books from a time when it was okay to call someone Big Ears.
During a final tour of the museum, the herald photographed wartime propaganda dolls – the Mussolini "Black Shirt" doll and "Hitler Youth" dolls. A sign read: "This historical toy is an example of pernicious Nazi propaganda aimed at indoctrinating German children. Ultimately, they contributed to war crimes and atrocities." The dolls are not included in the auction due to sensitivities surrounding such material.
Keeping with a Germanic theme, there's the progenitor of Barbie – a 1950s German doll known as the Bild Lilli doll, with an impossible figure, red fingernails, stiletto heels, white cotton polo shirt and mustard-colored shorts. According to the catalogue, "She was allegedly based on the hugely popular Marlene Dietrich. The founder and director of Mattel, Ruth Handler, bought several of the dolls at a toy fair in Hamburg and from 1958 produced the extremely successful Barbie, the best-selling toy ever made. Estimate: Up to $3000.
There's Princess Elizabeth and Princess Margaret's Chad Valley Dolls, Buck Rogers' "Disintegrator" ray gun, and a clockwork tinplate battleship from HMS Terrible (estimate $5,000). Toy closet favorites include Popeye, The Wizard of Oz, Alice in Wonderland, Noddy, Rupert the Bear, James Bond and Star Wars.
Two live auctions over the weekend feature more than 500 premium lots. A further 1000 lots will be sold over the next three days through a series of online auctions.
https://www.smh.com.au/national/globally-significant-toy-collection-to-go-under-the-hammer-20221003-p5bms2.html?ref=rss&utm_medium=rss&utm_source=rss_national Items from the Leuralla Toy and Railway Museum go under the hammer