Is Voice a condescending insult to native people?
Welcome back to YourOur Friday dive into the letters and comments on what you've decided on for the week's topic.
Readers have taken out their keyboards to let us know what they think of the Liberal Party's decision to back the indigenous vote no to the parliamentary referendum.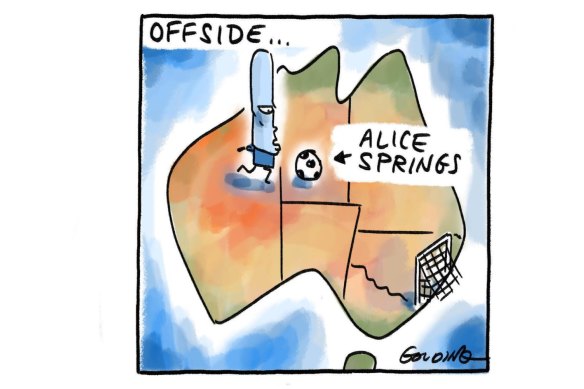 Standing on shaky ground?
When opposition leader Peter Dutton and Senator Jacinta Nampijinpa Price claimed that tribal children had been placed in the care of perpetrators, letter writers and online comments questioned the couple's true intentions:
Duncan After a decade in government, this suddenly becomes a new issue, and just as the coalition is looking for a pitfall to make it appear they care about tribal peoples while opposing a voice for them . It's gutter politics.
JNM If you make a determined attempt to destroy the voice by pursuing your case on the basis of mere hearsay, you are vulnerable to the ground collapsing beneath you. Where Dutton and Price are now – on very shaky ground.
Loading
Maximum power Certainly these claims support the case for the voice: seeking the opinions of those affected by these issues they wish to address.
David Rush, Lawson Let's assume for a moment that things are as bad as they say they are. As with the intervention, the Commonwealth could fire with all weapons. This used to work fine! That's what The Voice is all about – listening to the indigenous people instead of taking unilateral action. It is precisely in this situation that we need a voice.
Greg Thompson, Bega After a decade of coalition rule, some coalition members now say their policies in Alice Springs have been unsuccessful because the local Indigenous people have no voice. And not a trace of irony.
Corin Bass, Turramurra Why wait until now before addressing the serious issues facing tribal children? Does the Coalition have more faith in the Labor Party and Anthony Albanese to get the job done than it had in itself?
Bill Atkinson, corlette Price wants to "put the lives and responsibilities of children in the federal arena." Please let me know why you think Canberra is the right place for this important role but not the right place for the voice.
simon holiday, Taree Since 1788, most Australians have been oblivious to Aboriginal human rights. Peter Dutton knows that voters' comfortable indifference to their vote is compounded by his moral insults.
Are those who need the voice most silenced?
Warren Mundine describes himself as Australian, a member of the Bundjalung First Nation of Australia on his father's side and of the Gumbaynggirr and Yuin First Nations of Australia on his mother's side. he explained herald readers why he rejects Parliament's vote, and hundreds of readers replied:
Farouche Merism The Voice lumps all aborigines together, despite the fact that there are many nations with hundreds of different languages, and assumes that they all have the same opinion. It's a condescending insult to all Aborigines.
Avalon1 Good on you, Warren. The very people who need a voice will be silenced! I hope the voice fails. We need to completely rethink the voice and come up with something much better. How dare we white people think we know best what Native Americans need in a voice?
Madrid man Mundine plays with words to add to the confusion created by his pal Dutton. You are one voice Mundine, but many have spoken and the voice is the result of what they have decided. I will vote yes on The Voice.
Alfredo Bustos-Ramirez, Mosman If Mundine truly believes that the words "First Nations" do not include his ancestral nations, he should urgently contact a member of the Voice Commission for an explanation.
Gregory Sale, Saratoga This constitutional amendment will not address past grievances, but it is a way forward to bring us all together as Australians.
Ron Sinclair, Windradyne Far from being "a tool to subvert" indigenous people, the voice will be empowering, accountable and transparent so that all indigenous voices can be heard.
Is Dutton playing the long voice game?
The Liberal Party is in a strange and pernicious spiral, and Peter Dutton has seen no dividends from his decision to fight hard against the Indigenous voice, the wrote herald's chief political correspondent David Crowe. Online comments and letters had conflicting views:
badge Dutton is doing the right thing. Sometimes you have to stand up for what's right, even if it's unpopular. How it happens, time will tell if it's unpopular. In any case, he should stick to his guns. If people who prefer racism to equality are shut down, so be it.
Helen Please, Peter, don't change course, but drag your party of right-wing zealots into the ground with you.
Loading
michael g Dutton is not serious about the referendum. If he were, he would have asked more popular Liberals to take the lead in the no case, not himself and Senator Price. Dutton's hypocritical hair-splitting and Price's constant bombast aren't exactly music to most people's ears.
Concerned mother of a child The Liberal Party is becoming less and less relevant under Dutton. He certainly adopts the Tony Abbott style of opposition leader, adding nothing and defying everything.
Greg Phillipson, Aranda (ACT) It could be the seller that poses the problem for the coalition. No matter how he tries, Dutton can't sell a product that the majority of Australians don't want to buy.
NotHappyDan The Voice will be closer than many realize and may not stand up, giving Dutton his first win. He will then come out and say his first act as Prime Minister will be to give Indigenous Australians recognition in the Constitution with a statutory (but unconstitutional) regional vote in Parliament. He's playing a long game.
Is the referendum doomed to fail?
A poll showing that up to 20 percent of voters are considering ignoring the indigenous vote referendum was a wake-up call for political leaders, according to a herald editorial. Fortunately, well-informed readers have been very engaged in the voice debate:
Loading
annie People reject the no position, not because it doesn't get a fair hearing, but because the more we hear about it, the more hysterical, dishonest, and nonsensical it becomes.
Kevin Many plan to vote no, but just don't want to say it out loud. This referendum is doomed to failure because all it does is create more bureaucracy and delay decisions.
elizabeth darton, Lane Cove West The Liberals made a major tactical error in using the vote as a political maneuver to strengthen their position. Had Dutton looked for a way to work bipartisanly with the government to really improve the Voice to the satisfaction of the majority of Australians, he would have found a much firmer basis for his political ambitions. He would have been a co-author rather than a footnote in the story.
Steve Rothschild Thalgarrah The coalition's no to The Voice shows how irrelevant they have become, but also shows how they continue to harm this country even in opposition.
Maria Julian, Glebe It seems truly extraordinary that we actually need a yes referendum so that we can treat Indigenous Australians equally and humanely.
You can join the conversation at smh.com.au in the comments section of each article and in letters to the editor in print and online. I'll see you next Friday. Your, Pat Stringa, Letter Editor